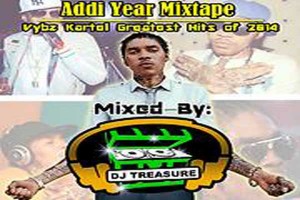 Listen or download a new free reggae dancehall music mixtape, celebrating the music of legendary Jamaican Dancehall Artist Vybz Kartel aka Addi Innocent.
The man is incarcerated by almost four years now, with a life in prison sentence and an incoming Appeal to be finalized and re-filed, and while a plot to kill him was just reported in the news, but his music doesn't know a stop.
Vybz Kartel's music is simply irresistible to the masses and this mixtape from Dj Tresaure features some of Vybz Kartel biggest hits of 2014 and explains why Addi

is legendary and each and every song scores new fans and scores new sale records.
January is always been Kartel's month with Janaury 7th being Vybz Kartel the Worl Boss b-day, or Earth Strong. Celebrate your favorite Jamaican dancehall artist playing his music loud.
Stream or download Dj Treasure Vybz Kartel Greatest Hits Of 2014 free mixtape from the player below.

Big Up Addi Dancehall King! Gaza General soon out a road.
LISTEN OR DOWNLOAD DJ TREASURE – VYBZ KARTEL GREATEST HITS OF 2014
real deal