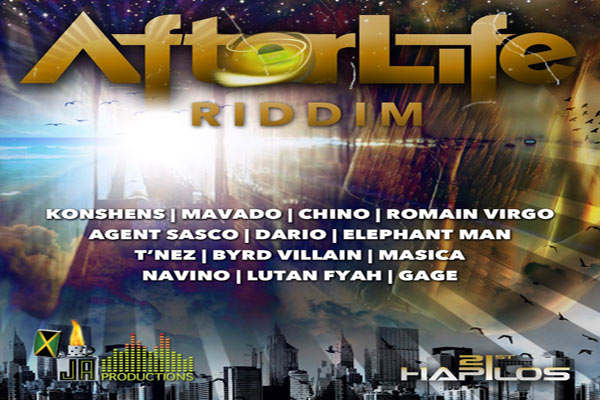 Preview the new "After Life" riddim produced by JA Productions.
After Life Riddim features the latest blazing reggae dancehall singles straight from beautiful Jamaica from recording artists like
Konshens with his touchy new song "Prayer", Mavado "Jah Is My Everything", Chino "Oh Jah", Romain Virgo "Scary Movie", Agent Sasco "Shell", Dario "Dawg Dem Nuh Play", Elephant Man "Walk Out", T'Nez "Money Ova Everything", Byrd Villain "Stubborn", Masicka "The Powers", Navino "Talk Fi Di Poor", Lutan Fyah "Bad A Road" and Gage "Walking Gun".
Buy After Life Riddim on Itunes
 LISTEN TO AFTER LIFE RIDDIM MIX 
-
JA PRODUCTIONS
The riddim is now available on

iTunes

, distributed by 21st Hapilos Digital.
AFTER LIFE RIDDIM TRACK LISTING
AGENT SASCO - SHELL
BYRD VILLAIN - STUBBURN
CHINO - OH JAH
ELEPHANT MAN - WALKOUT
GAGE - WALKING GUN
LUTAN FYAH - BAD A ROAD
MAVADO - JAH IS MY EVRYTHING
NAVINO - TALK FOR THE POOR
KONSHENS - PRAYER
ROMAIN VIRGO - SCARY MOVIE
VERSION AFTER LIFE RIDDIM INSTRUMENTAL

real deal