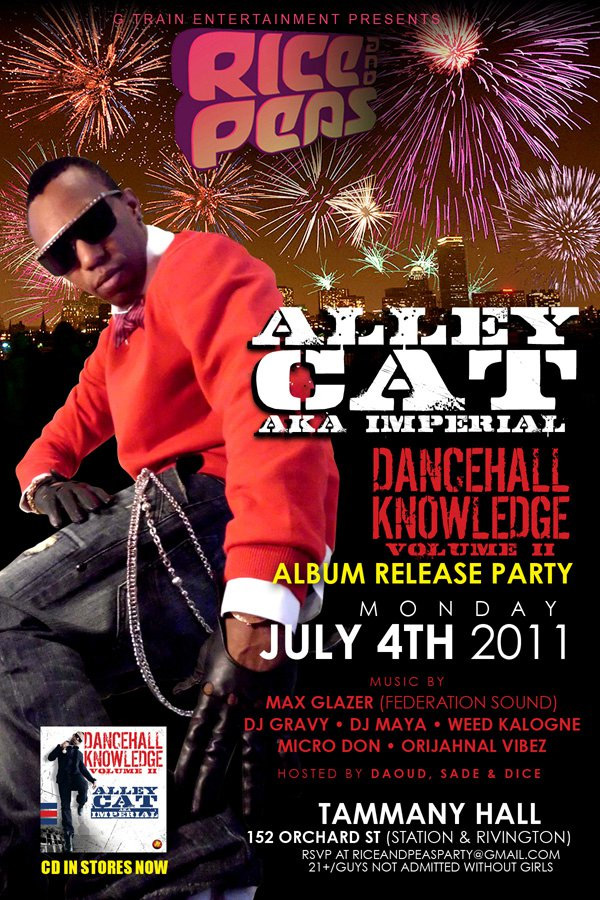 ALLEY CAT AKA IMPERIAL will be taking New York over this coming Independence week so if you are in the 212-718 area and you are into dancehall you can't miss this artist!You can catch him , this coming sunday, on the evening radio show hosted by Bobby Conders and Jabba on Hot 97 and after the radio they are bringing this very talented and versatile artist, that also write, produces and arranges SICK Riddims, to the famous event  called Fiyah Sunday in Brooklyn where he will showcase several of his hits as well as the new repertory from his new record Dancehall Knowledge Vol II.
Monday July 4th my Artist will be at Tammy Hall in Manhattan  with Max Glazer from Federation Sound , Dj Gravy, Dj Maya and more and is going to be his Official Album Release Party that you can't afford to miss!But if you went away for the long week-end don't worry! You can catch him wednesday again at the famous "Waa Gwaan Wednesdays" hosted by Steely Bashment in Bk.
REMEMBER DANCEHALL KNOWLEDGE VOLUME 2 AVAILABLE FOR SALE DIGITALLY ON ALL MAJOR DOWNLOAD SITES.
Check out Alley Cat on this track.He heard the soundtrack once and he locked it.The whole room got rocked! Alley Cat Dj TopCat MissG. Prod. Dis Ah Fya He doesn't  just sings he also makes beats and Riddims! Hear from his own words how he went from singing and djing to also producing some cool  songs for Mavado, Luciano, Queen Ifrica, Gentleman and others on this pilot episode of on Missgaza's couch! Alley Cat is ready for showcases in Canada,Europe,South America. Don't sleep!
[youtube width="640" height="344"]http://www.youtube.com/watch?v=Lv2uWbsRjPE[/youtube]
[youtube width="640" height="344"]http://www.youtube.com/watch?v=Kow-8AbyWK4[/youtube]
real deal