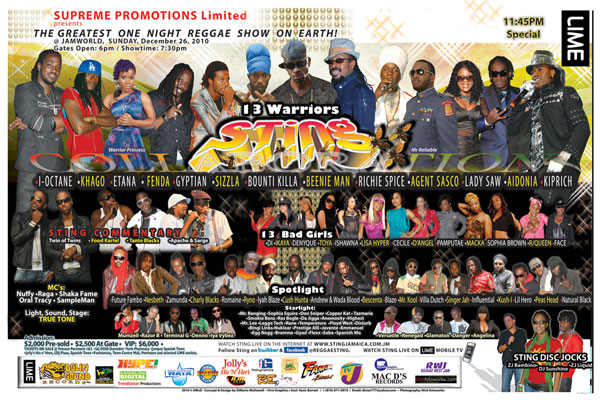 The boxing day show at the Building put on by Vybz Kartel and his team

was shut down last night as the authorities  ran in and dismantled the event as they did last week on Thursday at the same venue.
Reports indicate that the show had too much people trying to attend, there was a huge line and therefore all the crowd could not be guested in the Building Night Club resulting in breaches in hazard and fire safety regulations.
Sting 27 didn't see an appearance byBounty Killer and his name was never mentioned once. Beenie Man shared the stage with Assassin and they went from hit to hit together. He complained about not being paid yet, while on stage performing, reinforcing the rumors ofBountyabsence to be linked to budget reasons as well as for Vybz Kartel and Mavado.
Going back to the appearing guests at Sting 27 Khago and I-Octane earned the crowd respect with good performances, meanwhile Gyptian earned some clapping but his time on Sting's stage was very short.
Few ladies really shined and Lady Saw did a very raw and vintage thing after missing that stage for several years that will surely be remembered. 
Kiprich went on stage with Blak Ryno, who dissed his best ex friend from Gaza Camp Popcaan and Adidja Palmer.
This Sting editon's is being called a flop also because of the main missing acts Kartel & Mavado.
ER: WHO A TEK STING 2010

 
Watch Sizzla Kalonji Live Performance at Sting 2010



real deal