ZJ Chrome/Cr2O3 Records  & Jamaica's top station "Zip FM" resident DJ and super producer ZJ Chrome presents Cardiac Keys riddim that features some really good dancehall tunes.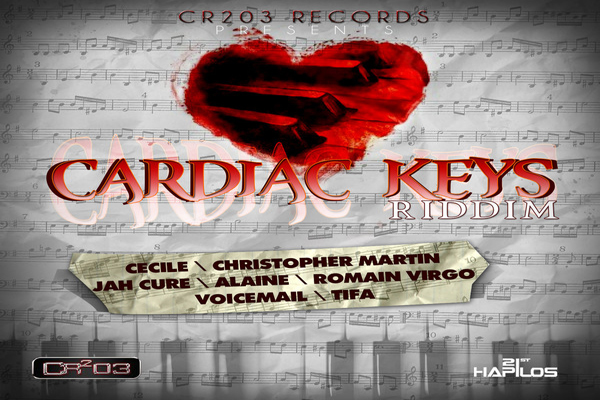 The "Cardiac Keys Riddim"  – is produced by Top Zip 103FM DJ Shaun "ZJ Chrome" Chabal. His Cardiac Set of Riddim also includes the previous released Massive Riddims like Cardiac Bass & Cardiac Strings. This could be one of the best One Drop Riddims released in 2013.
Under his CR203 Records and distributed on itunes by 21st Hapilos Digital, Cardiac Keys features Christopher Martin who delivers 2 melodious singles with "Reggae Road Block" and "I'm There", Alaine "What A Lot Of Love", Ce'Cile "Read No Book", Romain Virgo "My Word", Jah Cure "Stronger Than Before", Voicemail "How Is It To Love" and Tifa "Fairy Tale".
LISTEN TO CARDIAC KEYS RIDDIM ZJ CHROME MIX



CARDIAC KEYS RIDDIM TRACK LISTING
01 – CHRISTOPHER MARTIN – REGGAE ROAD BLOCK
02 – ALAINE – WHAT A LOT OF LOVE
03 – CE'CILE – READ NO BOOK
04 – ROMAIN VIRGO – MY WORD
05 – JAH CURE – STRONGER THAN BEFORE
06 – VOICEMAIL – HOW IS IT TO LOVE
07 – CHRISTOPHER MARTIN – I'M THERE
08 – TIFA – FAIRY TALE
09 – ZJ CHROME – CARDIAC KEYS RIDDIM VERSION
real deal