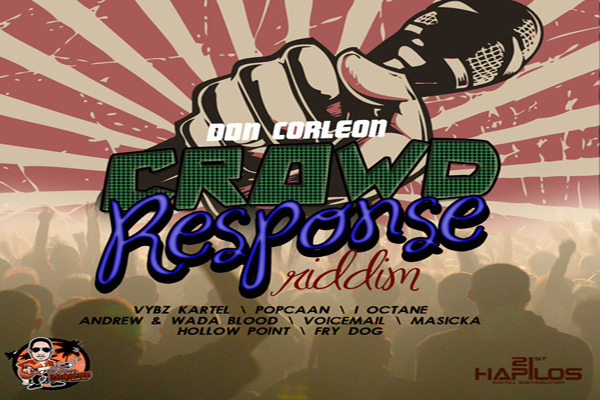 Brand new reggae dancehall music from Jamaica! Featured on the newest Crowd Response Riddim! Voicing on it Vybz Kartel with Wah Yuh, Popcaan Me A Di Man, I-Octane Di Gal Dem, Andrew and Wada Blood,Voice Mail, Masicka with Talk, Hollow Point and Fry Dogg. Maaad!
21st Hapilos Digital proves once again why they are the number one digital distribution company in the world. With their leading marketing formula and in their own words:
"our aim is to help Reggae and Dancehall artist achieve the visibility they need on the international airwaves".
Major international stations that feature Reggae and Dancehall music such as Hot 97FM are now almost a norm thanks to 21st Hapilos Digital, as executive vice-president of the digital distribution company, 21st-Hapilos Digital, Johnny Wonder facilitates and helps Dancehall and Reggae reach the international playlists.
So it was a natural development that Producer Don Corleon, who has worldwide recognition, a man who defines Dancehall since debuting with the Mad Ants Riddim in 2002, and top charting hit single from the Step Up film soundtrack, Sean Paul & Keyshia Cole, joined with 21st Hapilos Digital for a new venture.
Listen to Crowd Response Riddim Mix

 

Don Corleon Records and 21st Hapilos Digital bring you a new Dancehall Riddim called "Crowd Response Riddim", which features the latest Vybz Kartel single for March 2012.
LISTEN TO POPCAAN ME A DI MAN CROWD RESPONSE RIDDIM MARCH 2012 -DON CORLEON RECORDS



real deal