Listen to and download a fresh dancehall reggae music mixtape from Dj Junky titled Mek A Duppy.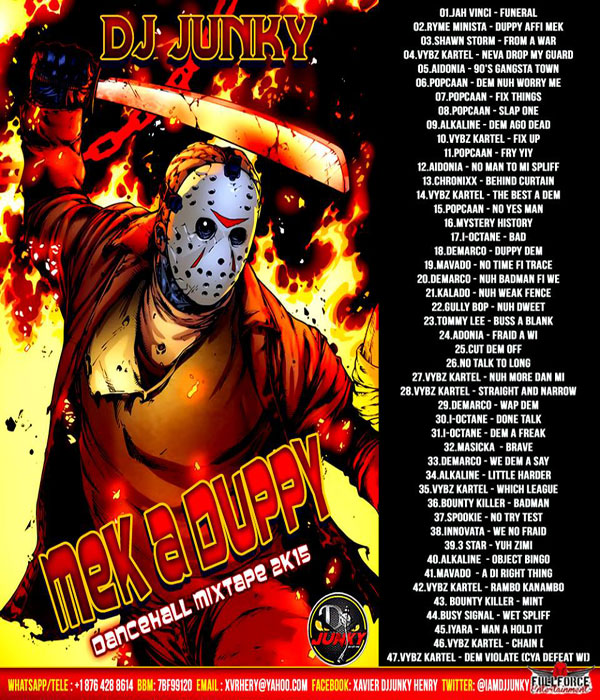 The new Dj Junky mixtape features some classics ever green songs from Popcaan like Dem Nuh Worry Me, Fry Yiy and Chronixx Behind Curtain, Alkaline Dem Ago Dead with some of the newest Vybz Kartel songs released in 2015 and going on with newest and oldest songs for a smooth and enjoyable mix the recaps some of the best songs in dancehall reggae where all the most important artists and songs are well represented.
Check the full track listing posted below and stream or download following the links or directly on the soundcloud player.
LISTEN/DOWNLOAD DJ JUNKY – MEK A DUPPY – DANCEHALL REGGAE MIXTAPE 2015
MEK A DUPPY – DJ JUNKY DANCEHALL REGGAE MIXTAPE TRACKLIST:
1. Jah Vinci – Funeral
2. Ryme Minista – Duppy Affi Mek
3. Shawn Storm – From A War
4. Vybz Kartel – Neva Drop My Guard
5. 1V – 90′S GANGSTA TOWN (BRAWD BOARD
6. POPCAAN – DEM NUH WORRY ME
7. POPCAAN – FIX THINGS [ RAW ]
8. POPCAAN – SLAP ONE [RAW] [ROUGH MIX]
9. ALKALINE – DEM AGO DEAD [RAW]
10.VYBZ KARTEL – FIX UP [RAW]
11. POPCAAN – FRY YIY – CLEAN
12. AIDONIA – NO MAN TO MI SPLIFF [EXPLICIT]
13. CHRONIXX – BEHIND CURTAIN
14. VYBZ KARTEL – THE BEST A DEM – RAW
15. POPCAAN – NO YES MAN
16. MYSTERY HISTORY.mp3
17. I OCTANE – BAD
18. DEMARCO – DUPPY DEM [CLEAN]
19. MAVADO – NO TIME FI TRACE [CLEAN]
20. DEMARCO – NUH BADMAN FI WE [RADIO]
21. KALADO – NUH WEAK FENCE
22. GULLY BOP – NUH DWEET [RAW]
23. TOMMY LEE – BUSS A BLANK – RAW
24. ADONIA – Adonia – Fraid A Wi
25. Cut Dem Off
26. No Talk To Long
27. VYBZ KARTEL – Vybz Kartel – Nuh More Dan Mi
28. Vybz Kartel – Straight And Narrow
29. Demarco – Wap Dem
30. I-Octane – Done Talk (Jealousy) – [Raw]
31. I Octane – DEM A FREAK*
32. MASICKA – BRAVE (RAW)
33. Demarco – WE DEM A SAY (raw)*
34. Alkaline – LITTLE HARDER*
35. Vybz Kartel – Which League (Explicit) (Official Audio)
36. Bounty Killer – Badman (Raw) [Black Heart Riddim]
37. SPOOKIE – NO TRY TEST [RAW]
38. INNOVATA – WE NO FRAID [RAW]
39. 3 STAR – YUH ZIMI [RAW]
40. ALKALINE – OBJECT BINGO [RAW]
41. MAVADO – MONEY A DI RIGHT THING
42. VYBZ KARTEL – RAMBO KANAMBO
43. BOUNTY KILLER – MINT ( RAW) – STAR STRUCK RIDDIM
44. BUSY SIGNAL – WET SPLIFF [RAW]
45. IYARA – MAN A HOLD IT [RAW]
46. VYBZ KARTEL – CHAIN [RAW]
47. Vybz Kartel – Dem Violate (Cya Defeat Wi)

real deal