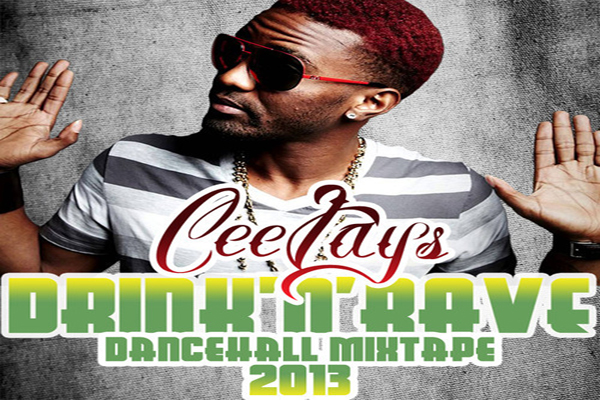 Stream or download DJ CEE JAY DRINK'N'RAVE – Dancehall Mixtape below.
Drink N Rave
Vybz Kartel, I -Octane, Tommy Lee Sparta, Baby Cham, Bugle, Konshens
.
Dj Cee Jay Drink N Rave Mixtape it's the right mixtape if you need to re-cap on the latest and hottest dancehall music releases of 2013 out of Jamaica, this is the download that will keep you up to date with what is hot right now in Jamrock.
DRINK'N'RAVE (DANCEHALL MIXTAPE 2013)
DRINK'N'RAVE (DANCEHALL MIXTAPE 2013) by Ceejay on Mixcloud
DJ CEE JAY DRINK'N'RAVE TRACK LIST
Tommy Lee Intro Vybz Kartel – Money Isn't All Vybz Kartel – Freaky Girl (Pt. 3) RDX – Wine It Up Voicemail – Wickedest Wine Leftside - Bubble Aidonia - Militancy Cham – Lawless Cham – Stripper Pose Demarco – My Confessions Bugle – Life Span Bugle – Prayer Tommy Lee - Live My Life T.O.K. – Diamond Girl Leftside – Rotten Rich Stein – Freind Zone Vybz Kartel - U.F.O Medz (feat. Teetimus) Konshens - Stop Sign Konshens – Dangerous Konshens – Drink And Rave Baby Cham – Wine (feat. O) Stein – Visa Buddy Konshens & Darrio – Gyal Sidung Voicemail – Clap It Up Aidonia – Jook So Gaza Slim & Vybz Kartel – Can't Do Without Me Voicemail – Wild Bubble Charly Black – Unstoppable T Nez – Hustle Propa Fade – Jah Is Always There Deablo – Jah Guide Mi Step 
Mavado – Box Of Money Aidonia – Kush Inna Mi Brain I Octane – Do Road Rough I Octane – Fly Over Badmind People I Octane & Bounty Killer - Badmind Dem a Pree Tommy Lee – Me Nuh Tek Dis Tommy Lee For Next Generation Selectas Tommy Lee – Dem Nuh Bad Tommy Lee – Duh Yuh Ting Million Stylez – Badmind Is Watching Me Elephant Man – Pon Yuh Toe Stylo G – Press Up RDX – Do Road Aidonia – Tip Pon U Toe RDX – Jump Mr Vegas, Kes & Bunji Garlin - Party Tun Up (Remix) Busy Signal – Picante (So Shifty Remix) Aidonia – Tan Tuddy (Gangnam Style Remix) Shakira – Waka Waka (This Time For Africa) Wax Wreckaz - Bubble and Wine Up (feat. Etzia) Vybz Kartel – Half On a Baby (Dubbel Dutch Remix) Sean Paul – She Doesn't Mind Sean Paul – Hold On
real deal