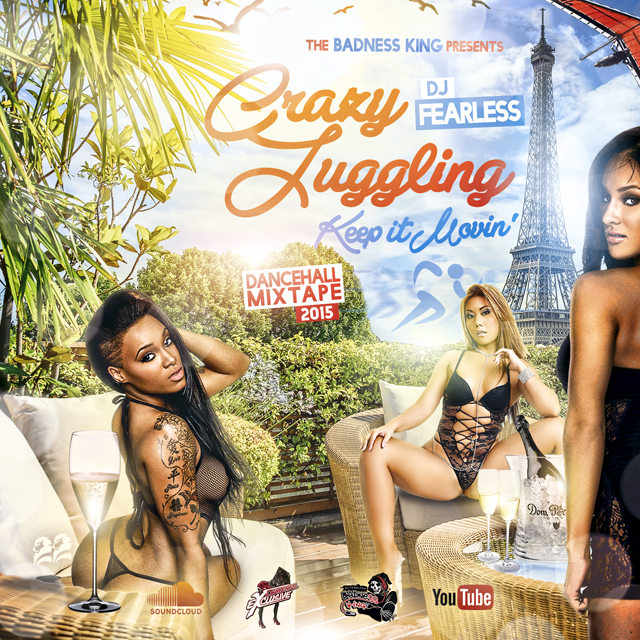 Let's vibe to a new super loadedDJ Fearless Dancehall Mixtape free to download and stream in your computer, mobile phones or tablets!
Listen below to a new dancehall mixtape brought to you from the Badness King DJ Fearless,out of London UK.
Fearless never sleeps and delivers always mad mixtapespacked with the latest dancehall hits & riddims that are shelling down the place right now. NO CHAT!
DJ Fearless Crazy Juggling Mixtapes includes 43 riddims in 80 minutes.
This new summer mix features more than 170 tracks
The concept of the mixtape is to keep it movin' mixing all the latest & best Dancehall riddims and hits.
STREAM OR DOWNLOAD FREE Crazy Juggling DanceHall Mixtape (Keep It Movin) 2015
Crazy Juggling DanceHall Mixtape Riddim List
1. Customer Care Riddim
2. Yardie Vibes Riddim
3. Control Riddim
4. Set Straight Riddim
5. Champagne Bubble Riddim
6. Bedtime Riddim
7. Mama-Koka Riddim
8. Pandora Ridddim
9. How It Feel Riddim
10. Love Tri-Angle Riddim
11. Sex Mate Riddim
12. Liquor Riddim
13. Lost Keys Riddim
14. New Money Riddim
15. Fast Lane Riddim
16. Wish List Riddim
17. Promiscuous Riddim
18.Money Box Riddim
19.Wrangler Riddim
20. Desert Riddim
21. Coolie Gal Riddim
22. Toasted Riddim
23. Igloo Riddim

24. Drink Up Riddim
25. Happy Hour Riddim
26. Ghetto Bible Riddim
27. Money Me A Look Riddim
28. Purge Riddim
29. Redlight Riddim
30. Futuro Riddim
31. Mattrass Riddim
32. Good Book Riddim
33. Outbreak Riddim
34. Tripple Bounce Riddim
35. Nymphomaniac Riddim
36. Dancehall EFX Riddim
37. Smokin Riddim
38. Overproof Riddim
39. Summer Fling Riddim
40. Summer Time Riddim
41. D.N.A Riddim
42. Wul Dem & Again Riddim
43. Gaza World Riddim

real deal