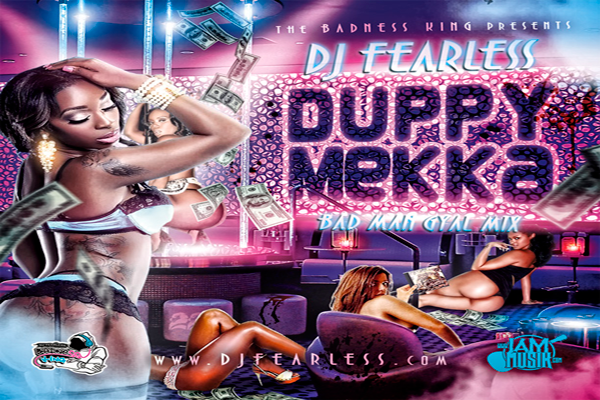 Here is DJ Fearless latest free dancehall music Mixtape, called Duppy Mekka. As usual it features all the new tunes and riddims for the Summer 2013.
The new Fearless Mixtape includes the latest hits, latest riddims and latest singles from

Popcaan, I-Octane, Liquid, Beenie Man, Vybz Kartel, Mavado, Konshens, Alkaline, Busy Signal

and so on. With almost 70 tracks this free mixtape will keep you good company for more than an hour.
Stream or download Dj Fearless' mixtape and check the track listing posted below.
STREAM DJ FEARLESS DUPPY MEKKA MIXTAPE JUNE – 2013



DJ FEARLESS DUPPY MEKKA MIXTAPE TRACK LIST
1. Popcaan - Be Like Me
2. I-Octane - Grow So
3. Flippa Moggela - Gal To Mi Thing
4. Ceegee - Chat Some Supp'n
5. Liquid - Wine Pon Time
6. Beenie Man - Drop It
7. Tifa - Lyrically Educated
8. Vybz Kartel - Georgina – Final Mix
9. Mavado - Body Look
10. I-Octane & Bounty Killer - Double Trouble
11. Konshens - Anyweh
12. Agent Sasco - Start War
13. Aidonia - Never Never
14. Mavado - Brukout
15. Stein - Fling It Up
16. Popcaan - Unruly Rave
17. Alkaline - Not A Slack Song
18. Laden & Di Genius - Party Time Again
19. Munga - Gwaan Bad
20. Busy Signal - Mek Duppy
21. Busy Signal - Grease Up
22. Chevan - Nuh Tek Talk – Dubplate
23. Deablo - When Badman A Step
24. Infamous Fresh - Nuh Fraid
25. Paradyme - Strike Dem – Dubplate
26. Beenie Man - Hottest Man Alive
27. Macka Diamond - Dye Dye
28. Froggy - Give It To Me
29. Knock Shizzle - Opa-Locka
30. Captain Barkey - Property Tax
31. Madd One - Matches Box
32. Delly Ranx - Jiggle & Wine
33. Sizzla - Di Baddest
34. Bling Dawg - Love The Girls
35. Esco - Cum Fi Yuh Body
36. Macka Diamond - Nuh Behaviour
37. Kappa - Turn Me On
38. Touchless & Spice - Work It
39. Kalado - Bad Inna Bed
40. Gaza Maxwell - Pussy Lil Bit
41. Beenie Man - Woman A Di House
42. Mr Vegas - Da Sumn Deh
43. Elephant Man - Pussy Fi Di Year
44. Ghost - All Night
45. Liquid - Darling
46. Versatile - Bere Gyal We Have
47. G Starr - Flossing Star
48. I-Octane - Try Offa Mi
49. Agent Sasco - Deh Pan Di Hustling
50. Mavado - X Rated
51. Mavado & Chino - Tight Pum Pum Girls
52. Gaza Slim - Whine
53. Fyakin - All Night
54. Bugle - Nuh Compatible
55. Patexx - Party Cup
56. Demarco - Badman World
57. Busy Signal - Money Haffi Mek
58. I-Octane - Cut Off Link
59. Cobra - Google We
60. Instrumental - Live To Make
61. Mavado & Jah Vinci - Live To Make
62. Aidonia - My Life Happy
63. I-Octane - Wuk Up Yuh Body
64. Darrio - Da Gyal Yah
65. Versatile - Drink N Drunk
66. Beenie Man - Wife
67. Bugle - Mood Swing
68. Laden - Gyal A Get Tek Weh
69. Chevan – Unruly – Dubplate
real deal