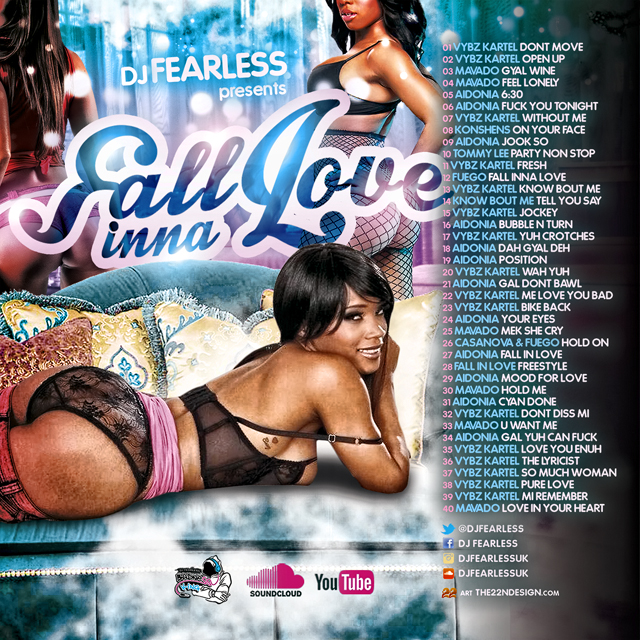 DJ FearLess

returns with a new "Fall Inna Love" mixtape featuring Dancehall kings Vybz Kartel, Mavado, Aidonia and more! Featuring back to back love & sex tracks.
Featuring some of the baddest reggae dancehall songs from incarcerated Gaza General Vybz Kartel released in 2015 and in the past years, with a love/ sex themes, such as
Don't Move, Open Up, Can't Do Without Me & Like A Jockey with Gazq Slim, Fresh, Know Bout Me, Bike Back, Wha Yu, Don't Diss Me and many more and also sporting some grat songs from Mavado, Aidonia, Tommy Lee Sparta and more Top Jamaican artists, this free dancehall mix from Uk badness king Fearless will keep you company, make you dance and sing along and will especially please the ladies.
Check the full track listing for – Dj Fearless Fall Inna Love -posted below to see why this free dancehall mix is globally going viral.
STREAM DJ FEARLESS – FALL INNA LOVE – DANCEHALL MIXTAPE
DJ FEARLESS – FALL INNA LOVE – DANCEHALL MIXTAPE – TRACK LISTING
1. Vybz Kartel – Dont Move
2. Vybz Kartel – Open Up
3. Mavado – Gyal Wine
4. Mavado – When You Feel Lonely
5. Aidonia – 6:30
6. Aidonia – Fuck You Tonight
7. Vybz Kartel & Gaza Slim – Cant Do Without Me
8. Konshens – On Your Face
9. Aidonia – Jook So
10. Tommy Lee – Party Non Stop
11. Vybz Kartel – Fresh
12. Fuego – Fall Inna Love
13. Vybz Kartel – Know Bout Me
14. Know Bout Me – Tell You Say
15. Vybz Kartel & Gaza Slim – Like A Jockey
16. Aidonia – Bubble N Turn
17. Vybz Kartel – Grab Up Yuh Crotches
18. Aidonia – Look Pan Dah Gyal Deh
19. Aidonia – Position
20. Vybz Kartel – Wah Yuh

21. Aidonia – Gal Dont Bawl
22. Vybz Kartel – Me Love You Bad
23. Vybz Kartel – Bike Back
24. Aidonia & Aisha Davis – In Your Eyes
25. Mavado – Mek She Cry
26. Casanova & Fuego – Hold On
27. Aidonia – Fall In Love
28. Vybz Kartel – Freestyle
29. Aidonia – Mood For Love
30. Mavado – Hold Me
31. Aidonia – Cyan Done
32. Vybz Kartel – Dont Diss Mi
33. Mavado – I Know U Want Me
34. Aidonia – Gal Yuh Can Fuck
35. Vybz Kartel – Love You Enuh
36. Vybz Kartel – The Lyricist
37. VYBZ KARTEL & Gaza Slim – So Much Woman
38. Vybz Kartel - Pure Love Me Give Gyal
39. Vybz Kartel – Mi Remember
40. Mavado – Love In Your Heart

real deal