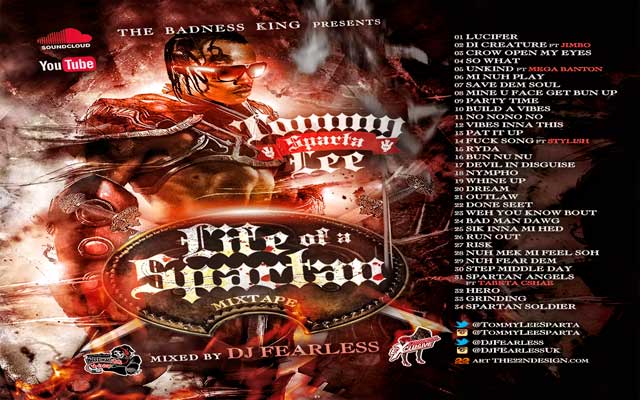 DanceHall mixtape featuring the Spartan King Tommy Lee Sparta from UK based Dj Fearless, also known as Baddest King.
Old and new fans of Jamaican dancehall artist Tommy Lee Sparta can stream or download for free some of the best and biggest Sparta songs of the latest years, including some new and old classics from Uncle Demon, like 
Unkind Ft Mega Banton, Party Time, Vibes Inna This, Bun Nu Nu, Dream, Spartan Angels and many more,scroll down for the full Tommy Lee songs list.
Stream, download, check track list posted below for DJ FearLess – Tommy Lee Sparta – Life Of A Spartan – Mix.
Listen To Tommy Lee Sparta – Life Of A Spartan [Dancehall Mixtape]
DWNLD DJ FEARLESS TOMMYLEE SPARTA
MOBILE DOWNLOAD LINK:
DJ FearLess – Tommy Lee Sparta – Life Of A Spartan Track listing – April 2015
1.Tommy Lee Sparta  Lucifer
2.Tommy Lee Sparta Di Creature Ft Jimbo
3. Tommy Lee Sparta Crow Open My Eyes
4. Tommy Lee Sparta So What
5. Tommy Lee Sparta Unkind Ft Mega Banton
6.Tommy Lee Sparta  Mi Nuh Play
7.Tommy Lee Sparta  Save Dem Soul
8.Tommy Lee Sparta  Mine U Face Get Bun Up
9. Tommy Lee Sparta Party Time
10. Tommy Lee Sparta Build A Vibes
11. Tommy Lee Sparta No Nono No
12.Tommy Lee Sparta Vibes Inna This
13. Tommy Lee Sparta Pat It Up
14.Tommy Lee Sparta  Fuck Song Ft Stylish
15.Tommy Lee Sparta Ryda
16. Tommy Lee Sparta Bun Nu Nu
17. Tommy Lee Sparta Devil In Disguise
18. Tommy Lee Sparta Nympho
19. Tommy Lee Sparta Whine Up
20. Tommy Lee Sparta Dream
21. Tommy Lee Sparta Outlaw
22. Tommy Lee Sparta Done Seet
23. Tommy Lee Sparta Weh You Know Bout
24. Tommy Lee Sparta Bad Man Dawg
25. Tommy Lee Sparta Sik Inna Mi Hed
26. Tommy Lee Sparta Run Out
27. Tommy Lee Sparta Risk
28. Tommy Lee Sparta Nuh Mek Mi Feel Soh
29.Tommy Lee Sparta Nuh Fear Dem
30.Tommy Lee Sparta  Step Middle Day
31.Tommy Lee Sparta  Spartan Angels Ft Tabeta Cshae
32 Tommy Lee Sparta. Hero
33.Tommy Lee Sparta  Grinding
34.Tommy Lee Sparta  Spartan Soldier
real deal