Take it easy and slow with Dj Junky, from St – Ann Jamaica, and his  Bob Marley -The King Of Reggae – free Mixtape.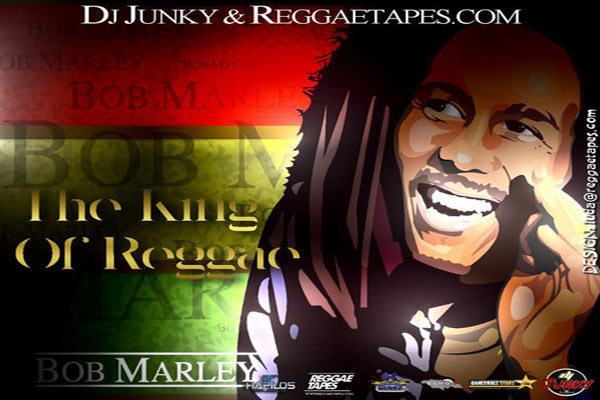 The mixtape came out this past April and celebrates the King of Reggae Music, including some classic and ever green hits from the one and only Robert Nesta Marley, for the enjoyment of his new and old fans.
This is a really good mixtape to wake up to in the morning celebrating the beauty of life and the summer time with some sweet Bob Marley's songs.
The King Of Reggae Mixtape includes also some remixes featuring Notorious Big & Vybz Kartel, as well as one remix with Lauryn Hill and another one with Trey Songz & Sizzla. 
DWNLD BOB MARLEY THE KING OF REGGAE
DJ JUNKY – (BOB MARLEY) THE KING OF REGGAE MIXTAPE



DJ JUNKY BOB MARLEY  MIXTAPE TRACK LIST:
13:48 :

BOB MARLEY -

Crazy Ball Heads
13:49 :

BOB MARLEY

-

Easy Skanking
14:02 :

 
BOB MARLEY -
talking to the people – YouTube
14:05 :

BOB MARLEY

-

Easy Skanking
14:07 :

BOB MARLEY

-

Natural Mystic
14:09 :

BOB MARLEY

-

Who The Cap Fit
14:11 :  

BOB MARLEY -

Ion Lion Zion
14:13 :
BOB MARLEY
 -

No More Trouble
14:15 :

BOB MARLEY -

Coming From The Cold
14:17 :

BOB MARLEY -

WAR
14:19 :
BOB MARLEY
-

400 Years
14:21 :
BOB MARLEY
-

Stir It Up
14:24 :
BOB MARLEY
 -

Stop That Train
14:26 :

BOB MARLEY -

Three Little Birds
14:28 :

BOB MARLEY -

One Love
14:29 :

BOB MARLEY FT. PETER TOSH -

Legalize It
14:31 :

TREY SONGZ FT SIZZLA & BOB MARLEY -

Gotta Go

(THERE'S TROUBLE REMIX) 
14:33 :

BOB MARLEY -

Wait In Vain  ORIGINAL
14:35 :

NOTORIOUS B.I.G. FT. BOB MARLEY & VYBZ KARTEL -

Woman Hold Her Head & Cry (EDIT)
14:37 :

BOB MARLEY -

THINK YOU IN HEAVEN
14:39 :

LAURYN HILL &
BOB MARLEY
 -

Turn Your Lights Down Low
14:42 :

BOB MARLEY -

Keep On Moving
14:43 :
BOB MARLEY-
Concrete Jungle
14:46 :
BOB MARLEY
 -

Slave Driver
14:48 :
BOB MARLEY -
Baby We've Got A Date (Rock It Baby)
14:50 :
BOB MARLEY -
Kinky Reggae
14:52 :
BOB MARLEY -
Midnight Ravers
14:55 :
BOB MARLEY –

Redemption Song
real deal