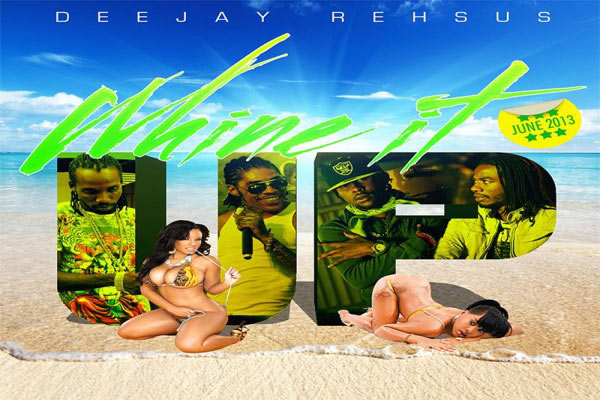 Enjoy a new happy dancehall mixtape! Whine It Up in this hot Summer 2013 with DJ Rehsus.
DJ Rehsus delivered a music mix packed with all the latest biggest reggae and dancehall songs and riddims, featuring some of the best Jamaican artists and hit songs, in a well balanced mix that keeps you up to date with the latest hits and riddims out of Jamaica for this beginning of Summer 2013.
Stream or Download the best reggae dancehall songs of 2013 in Whine It Up Dancehall Mixtape from DJ Rehsus.
Check the track listing posted below and please re-share the post if you enjoyed so others can enjoy this too. Bless.
LISTEN TO DJ REHSUS – WHINE IT UP MIXTAPE JUNE 2013
DWNLD DJ REHSUS "WHINE IT UP" MIXTAPE JUNE 2013
WHINE IT UP MIXTAPE  TRACKLISTING – JUNE 2013
01. THIS PARTY ROCKS

– RICHIE LOOP
02.

SCRIPTURES RIDDIM
03.

4PLAY RIDDIM
04. NO BED

– VYBZ KARTEL
05. ANYTHING

– SEAN PAUL
06.

RICH LIFE RIDDIM
07. CLIP

– CHAM
08. ODD RAS

– CHRONIXX
09.

PINK WALL RIDDIM
10.

HAPPY TIME RIDDIM
11.

GYAL BOSS RIDDIM
12. RIGHT WINE

– VYBZ KARTEL
13.

REVEL RIDDIM
14. CONTINUE WHINE

– DEMARCO
15.

BAD BOUNCE RIDDIM
16.

C4 RIDDIM
17.

FIRST CAPITAL RIDDIM
18.

BAD GAL RIDDIM
19.

STAR VIBEZ RIDDIM
20. SUMMERTIME IN JA

- SHAWN STORM & BLAK DIAMON
21.

THE WORLD RIDDIM
22. LOCK DI WHOLE PLACE

– I-OCTANE
23.

HAPPY THOUGHTS RIDDIM
24. GANSTA WAY

– POPCAAN
25. BERE GYALNISS

– POPCAAN 
26. BRUKI (FI DI JOCKEY PT.2)

– AIDONIA
27.

BOUNCE & WAVE RIDDIM
28.

UNRULY RIDDIM
29.

SHOWBIZ RIDDIM
30.

STEPPA RIDDIM
31.

KARRAMEL RIDDIM
32. SHAKE YUH BODY (WINE UP)

– BLAK RYNO
33. YOUR BODY A DI BEST

– AIDONIA
34. WINE YUH WAIST

– BEENIE MAN
35. GYAL DEM TIME

– VOICEMAIL
36.

RIO DE JAMAICA RIDDIM
37. PARTY HOP

– RDX
38. GAL FROM ALL BOUT

– KONSHENS
39. TAN UP AN FUCK

– KONSHENS
40. CAPTAIN SPARTA

– TOMMY LEE
41.

AFTERLIFE RIDDIM
42. WITHOUT CLOTHES

– DWAYNO
43.

OVA RAVE RIDDIM
44. MAJOR LAZER & BUSY SIGNAL –

WATCH OUT
45.

RE-ENTRY RIDDIM
46. I'VE SEEN

– AIDONIA
47. SER LIBRE (Be Free)

– KONSHENS & RDX
48.

DANDYMITE RIDDIM
49.

TEAM BRIT JAM RIDDIM
50. SMOKE ALL DAY

– CHARLY BLACK
51. IT AIN'T EASY

– MAVADO
real deal