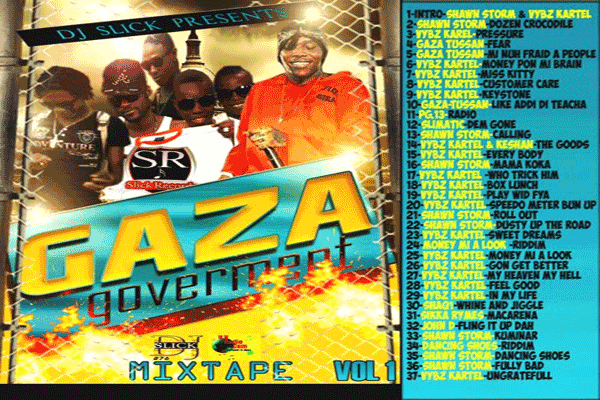 Shawn Storm and Vybz Kartel talk from behind bars thru this super blessed and amazing mixtape that is still an EXCLUSIVE thing right now. All the old and new real #Vybz Kartel and #Gaza Fans will fall in love with DJ Slick - Gaza Government Vol 2 mixtape that comes out straight from Portmore & Gaza City.
Produced by Shawn Sivva Storm Campbell and arranged by KKC and Sikka Rhymes this mixtape is the OFFICIAL GAZA NEW ORDER SH*T.
DJ SLICK PORTMORE – GAZA GOVERMENT VOL 2 MIXTAPE -June 2015



Gaza Government Vol 1 maddest thing! All theDancehall students have to listen. Gaza Goverment Vol 2 features all the newest songs and  new artists from Gaza City like Slimatic, Tussan, PG13, Sikka Rymes as well as Shawn Storm & Vybz Kartel.
DJ SLick features the latest blazing hits from the one and only Vybz Kartel like Miss Kitty, Launch Box, Don't Play Around With Fiyah, Like Addi The Teacha, Customer Care, Key Stone Riddim, Everybody, Moma Koka Riddim, as well as songs from his latest album Viking, produced by TJ Records and the all the biggest Summer hits 2015 Kartel just dropped in the past months.Check the cover for playlist.
What's so special about this mixtape is that it comes from Portmore and all the Gaza artists are talking on it giving their drops and talking on the tracks Kartel too, you never heard him talk and laugh so much on any other mixtape in the last years since his incarceration. This little underground Gaza Gem it's been posted by DJ Slick some time ago and I enjoyed every second of it, so much  in fact that I know you will too playing and replaying it in your boom system, till it gets viral. It's a good thing to hear di Gaza General laugh Big Up Dj Slick.
Gaza to the World. Like when it all begun. Gaza ain't death you know. Big Up all the Gaza Family around the World!
real deal