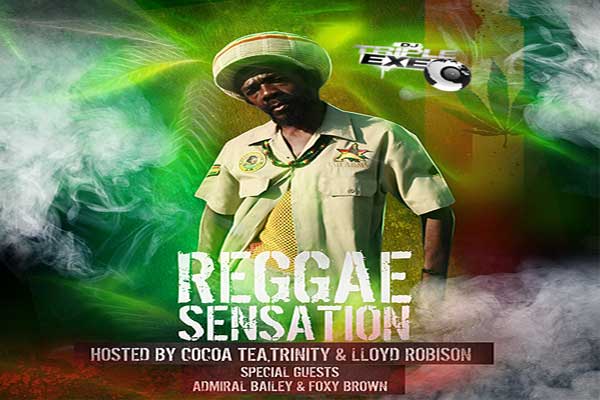 Vibe to one of the dopest free reggae mixtape of the year, brought to you by Dj Triple Exe and titled "Reggae Sensation Mixtape"
Hosted by legendary Jamaican reggae artist Cocoa Tea with Trinity & Lloyd Robison and Admiral Bailey plus Brooklyn legenary female rapper Foxy Brown- Reggae Sensation – includes all the Reggae Classics you need.
From Tenor Saw to Yellow Man to the super mellow Sister Nancy, filled with  music from Beres Hammond, Shabba Ranks, Junior Reid, Buju Banton, Wayne Wonder, UB40 & morethis superpacked mix showcases the best of the best in Jamaican reggae music and is available for free streaming or free download following the links after the audio mix.
Check out the full  track listing for DJ Triple Exe -Reggae Sensation Mixtape and enjoy some dope reggae anthems from Jamaica. Irie.
DJ Triple Exe-Reggae Sensation (Hosted By Cocoa Tea, Trinity & Lloyd Robinson)
DJ Triple Exe-Reggae Sensation Mixtape Track Listing

01 - Cocoa Tea,Trinity & Lloyd [01:06]
Robinson-Reggae Sensation Mixtape Intro
02 -Tenor Saw -Pumpkin Belly [02:02]
03 -Yellowman & Sister Nancy - Cocaine [01:54]
04 -JC Lodge -Telephone Love [01:57]
05 -Admiral Bailey - Checks in on Reggae [00:25]
Sensation
06 -Admiral Bailey -Two Year Old [02:23]
07 -Admiral Bailey - Kill Them Wil it [01:41]
08 - Beres Hammond - First Time I Met You [01:51]
09 -Sister Nancy - Bam Bam [01:50]
10 -Foxy Brown - Checks in on Reggae Sensation [00:32]
11 -Foxy Brown - Sorry (Baby Can I Hold You) [02:06]
12 -Junior Reid – One Blood [01:50]
13 -Shabba Ranks -Wicked in A Bed [02:09]
14 -Cocoa Tea-18 & Over [02:59]
15 -Wayne Wonder - Saddest Day of My Life [02:21]
16 -I Wayne - Can't Satisfy Her [02:00]
17 - Courtney Melody - Screechie Across the [02:52]
Border
18 -UB40-Red Red Wine [02:14]
19 -Admiral Bailey – Gimmi Punnany [02:47]
20 -Yellowman-Letter to Rosie [01:57]
21 -Buju Banton – Make My Day [02:50]
22 -General Trees – Gone A Negril [02:30]
23 -Capleton – Jah Jah City [03:58]
24 -Barrington Levy - Murder [03:35]
25 -Lloyd Robinson - Cuss Cuss[02:06]
26 -Inner Circle -Make You Sweat [03:05]
27 -Rankin Dread-Fattie Boom Boom[02:01]
28 -Sizzla- Dry Cry [02:26]
29 -Yellow Man - Morning Ride [02:25]
30 -Dennis Brown -Here I Come [03:04]
31 -Gregory Isaacs - Night Nurse [03:11]
32 -Musical Youth-Pass the Dutchie [03:23]
33 -Buju Banton-Boom Bye Bye [02:58]
34 -Trinity -Three Piece Suit [03:12]
35 -Cocoa Tea-She Love Me Now [02:21]
real deal