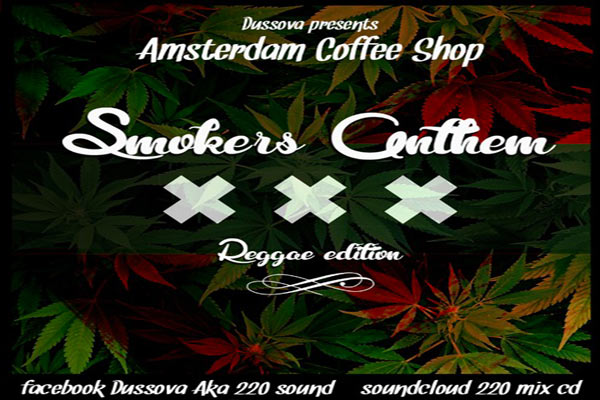 Another International Mixtape to enjoy and sing along to, packed with some sweet & classic Reggae tunes that celebrate the 4,20 ritual.Smokers Anthem includes a long list of classic tunes to blast loud and it's available for free stream and free download.
DussOva AKA 220 Sound (France/Switzerland) presents: "AMSTERDAM COFFEE SHOP-Smokers Anthem" This is a 100% ganja tunes mixtape mixed by Esco and selected by Killa "BOSS" Bee For DussOva AKA 220 Sound

.
STREAM /DOWNLOAD"AMSTERDAM COFFEE SHOP SMOKERS ANTHEM"

 

REGGAE MIXTAPE 2014
Check out the track listing posted below, and just so you know this mixtaoes features artists like Sizzla, Wayne Wonder, Mighty Diamond, Shaggy, Tarrus Riley, John Holt, Morgan Heritage, Sugar Minott, Bushman and many more heay weights in Reggae Music .Stream or  download the  full mixtape "AMSTERDAM COFFEE SHOP-Smokers Anthem" for free below.
"AMSTERDAM COFFEE SHOP- Smokers Anthem Mixtape"  Tracklist:
01- Mighty Diamonds

  "Chalice In A Circle"
02- Everton Blender

"Bring The Kutchie"
03- Tristan Palmer

"Joker Smoker"
04- Frankie Jones

"Don't Smoke Seed"
05- Carlton Livingston

"100 Weight Of Collie Weed"
06- Eek-a-Mouse

"Ganga Smugglin"
07- John Holt

"Police In Helicopter"
08- Morgan Heritage

"License"
09- Barrington Levy & Mr Vegas

"Under Mi Sensi"
10- Barrington Levy

"Coolie Weed"
11- Ganga Killer

"Scewdriver"
12- Sugar Minott

"Herbsman Hustlin"
13- Cocoa Tea

"The Weed"
14- Bushman

"Weed Greed"
15- Charly Black

"High Grade"
16- Sizzla

"Put It Right There"
17- Sizzla"

Healing Of The Nation"
18- Tony Rebel

"The Herbs"
19- Turbo Belly

"True Inspiration"
20- Wayne Wonder & Don Yute

"Sensi Ride"
21- Ninja Man

"Legalize The Herb"
22- Mikal Rose & Alborosie

"Waan The Herbs"
23- Marlon Asher "Ganja Planter"
24- Sanchez "Chronic"
25- Luciano "Free The Herbalist"
26- Anthony Red Rose "Gimmie The Herb"
27- Wayne Marshall "The Right Herb"
28- Buccaneer "Ganja Man"
29- Buju Banton "Weed Persecution"
30- Cham & Spragga Benz "The Ganja Song"
31- Sluggy Ranks "The Tuffest"
32- Bounty Killer "Smoke The Herb"
33- Busy Signal "High Grade"
34- Chan Dizzy "Herbalist"
35- Snoop Lion & Collie Buddz "Smoke The weed"
36- Ice Cube "Smoke Some Weed"
37- Luniz "I Got Five On It"
38- Stacks & Jah Cure "Flying High"
39- Busy Signal "Blame It On The Weed"
40- Wayne Marshall "Blame The Weed"
41- Busy Signal "Smoke Some High-Grade"
42- Lloyd Banks & Snoop Dogg & 50 Cents "I Get High"
43- Collie Buddz "Sensimillia"
44- Top Cat "Herbalist"
real deal