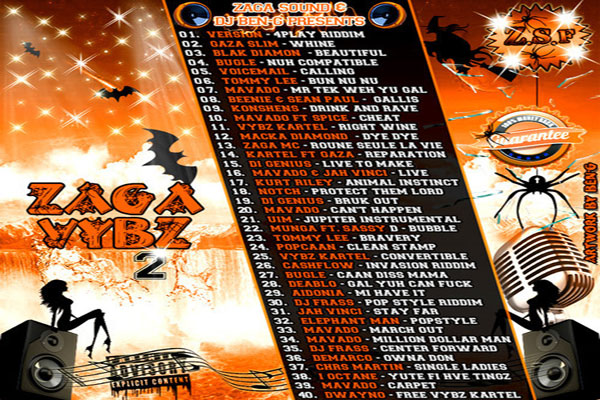 STREAM OR DOWNLOAD ZAGGA VYBES VOLUME 2 Mixed by Dj Ben-G (from Zaga Sound) which includes some of the hottest reggae dancehall music riddims and songs released in 2013.
Featuring dancehall reggae riddims like Center forward riddim, Jupiter riddim as well as some of the hottest dancehall hits from Gaza Slim, Vybz Kartel, Tommy Lee Sparta, Mavado, Konshens, I-Octane and more Jamaican reggae dancehall artists, vibe with Dj Ben G mixtape.
Check the  download and track listing posted below.
DJ BEN G ZAGGA VYBES VOLUME 2 – DANCEHALL MIXTAPE
ZAGGA VYBES VOLUME 2 – DANCEHALL MIXTAPE TRACK LIST
01. VERSION – 4PLAY RIDDIM 02. GAZA SLIM – WHINE 03. BLAK DIAMON – BEAUTIFUL 04. BUGLE – NUH COMPATIBLE 05. VOICEMAIL - CALLING 06. TOMMY LEE – BUN NU NU 07. MAVADO – MR TEK WEH YU GAL 08. BEENIE & SEAN PAUL – GALLIS 09. KONSHENS – DRINK AND RAVE 10. MAVADO FT SPICE – CHEAT 11. VYBZ KARTEL – RIGHT WINE 12. MACKA DIAMOND – DYE DYE 13. ZAGA MC – ROUNE SEULE LA VIE 14. KARTEL FT GAZA SLIM – REPARATION 15. DI GENIUS – LIVE TO MAKE 16. MAVADO & JAH VINCI – LIVE 17. KURT RILEY – ANIMAL INSTINCT 18. NOTCH – PROTECT THEM LORD 19. DI GENIUS – BRUK OUT 20. MAVADO – CAN'T HAPPEN
21. UIM RECORDS- JUPITER INSTRUMENTAL 22. MUNGA FT. SASSY D – BUBBLE 23. TOMMY LEE – BRAVERY 24. POPCAAN – CLEAN STAMP 25. VYBZ KARTEL – CONVERTIBLE 26. CASHFLOW – INVASION RIDDIM 27. BUGLE – CAAN DISS MAMA 28. DEABLO – GAL YUH CAN FUCK 29. AIDONIA – MI HAVE IT 30. DJ FRASS – POP STYLE RIDDIM 31. JAH VINCI – STAY FAR 32. ELEPHANT MAN – POPSTYLE 33. MAVADO - MARCH OUT 34. MAVADO – MILLION DOLLAR MAN 35. DJ FRASS – CENTER FORWARD 36. DEMARCO – OWNA DON 37. CHRS MARTIN – SINGLE LADIES 38. I OCTANE – YUTE FI HVE TINGZ 39. MAVADO - CARPET 40. DWAYNO – FREE VYBZ KARTEL

real deal