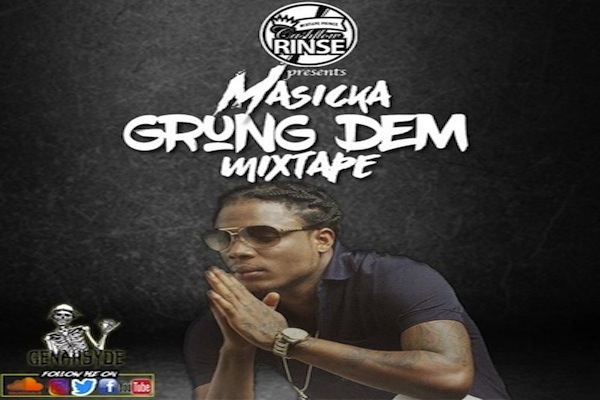 Fans of Jamaican recording artists Masicka can now download for free the artist's newest mixtape brought to you by Jamaican disck jock and producer Cash Flow Rinse.
Masicka is a Jamaican dancehall reggae artist that has becoming increasingly popular in the last past few years, thanks to all the hard work the recording dancehall artist has being putting up with, mastering his own style and lyrical power in genre often full of clones.
Jamaican dancehall artist Masicka always kept his style original as his powerful delivery that he showed off with the war hit banger "Infrared" recorded with incarcerated World Boss Vybz Kartel,click here for the official music video.The song was powerful and catchy, Masicka won a lot of sympathy and a bigger audience and since he kept delivering great dancehall reggae songs, that can please different tastes from the love ballads, to club hits and war anthems.
Masicka newest and baddest songs, as well as the classics, this new Cash Flow Rinse mix showcases this young Jamaican artist repertoire and versatility, a must have for all dancehall lovers and Masicka's Genahsyide fans.
GET FAMILIAR WITH MASICKA SONGS VIA HIS LATEST MIXTAPE FROM CASH FLOW RINSE AVAILABLE BELOW FOR BOTH FREE STREAMING & FREE DOWNLOAD.
LISTEN / DOWNLOAD MASICKA GRUNG DEM MIXTAPE BY CASHFLOW RINSE {MASICKA – THEY DONT KNOW} 2018
DWNLD DJ CASH FLOW RINSE MASICKA GRUNG DEM DANCEHALL MIX 2018
[Dj CashFlow Rinse "Masicka: Grung Dem" Track Listing Not Available]
real deal