HERE IS A NEW 2014 REGGAE MIXTAPE HOT LIKE FIRE FROM JAMAICAN DJ CASHFLOW RINSE.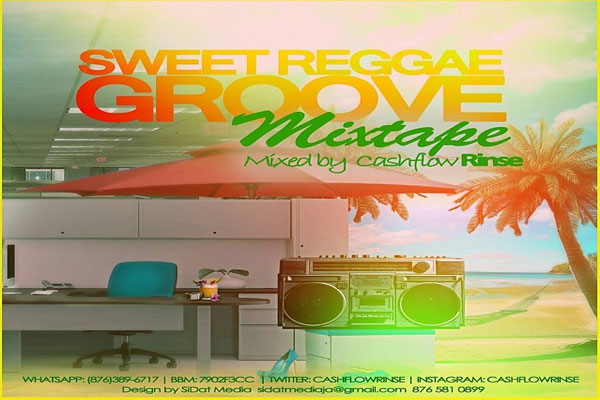 CHECK OUT THE  NEW REGGAE MIXTAPE " SWEET REGGAE GROOVE MIXTAPE" MIXED BY CASHFLOW RINSE THAT INCLUDES SOME OF THE SWEETEST REGGAE TUNES NEW & OLD.
DJ CASHFLOW RINSE SWEET REGGAE GROOVE IS A FREE MIX TO STREAM OR DOWNLOAD THAT FEATURES SOME OF THE TOP JAMAICAN REGGAE ARTISTS OF OUR TIME & SOME OF THE BEST & TOP RANKING REGGAE SONGS OF 2014.
STREAM, DOWNLOAD AND CHECK THE TRACK LIST POSTED BELOW.
STREAM / DOWNLOAD SWEET REGGAE GROOVE MIXTAPE DJ  CASHFLOW RINSE
DWNLD CASHFLOW SWEET REGGAE GROOVE SINGLE TRACK
DWNLD CASHFLOW SWEET REGGAE GROOVE REGGAE MIXTAPE
CASHFLOW RINSE SWEET REGGAE GROOVE MIXTAPE TRACKLIST
1.

INTRO

DONE BY ROMAIN VIRGO




2.

ROMAIN VIRGO – SOUL PROVIDER


3.

TASH – REGGAE MUSIC (DUB)


4.

FABAIN – WATCH HOW WE LIVING (DUB)


5.

ANGELE SMITH – BOUNCE BACK (DUB)


6.

D MAJOR – REAL KNOW REAL


7.

D MAJOR – ANTHEM FOR THE MEEK


8.

LOYAL FLAMES – WORKING HARD


9.

DALTON HARRIS – PAUPER


10.

RC – GIDEON BOOT


11.

ROMAIN VIRGO – BABY MOTHER


12.

ROMAIN VIRGO – COLL SIDE


13.

TIMEKA MARSHALL – COME THROUGH (DUB)


14.

BUSY SIGNAL – THEWAY YOU LOVE ME


15.

I CANDY – LAW OF ATTRACTION


16.

ROMAIN VIRGO – BEAT YOU DOWN


17.

CECILE – UPGRAGE


18.

FABAIN FT MAESTRO DON – SAY YEAH OH! (DUB)


19.

CHRIS MARTIN – MI FRIEND THEM


20.

JAH VINCI – NEVER TOO LATE


21.

ROMAIN VIRGO – FREEDOM


22.

GENTLE MAN FT I – OCTANE – STRONGER


23.

AGENT SASCO – SMART PHONE


24.

CECILE – GOT ME HOOKED


25.

CHRIS MARTIN – IN AND OUT


26.

FELI – GOT IT BAD (DUB)


27.

KIPRICH – SMART PHONE


28.

KONSHENS – TO HER WIT LOVE


29.

DEMARCO – MISSING YOU TOUCH


30.

ALAINE – AMAZING


31.

D MAJOR – CANT LET ME GO
32.

CHRIS MARTIN – TOO BIG


33.

ROMAIN VIRGO – EVERLASTING LOVE


34.

CECILE - LIFE IS SO PRECIOUS


35.

KABAKA PYRAMID – NO CAPITALIST


36.

I – OCTANE WHAT ABOUT THE POOR


37.

QUEEN IFRICA – LET'S GET SILLY


38.

ZAGGA – NEVER GIVE UP


39.

CHRONIXX – AINT NO GIVING IN


40.

TARUS RILEY – GIMMI LIKKLE ONE DROP


41.

GINJAH – DOUBLE STANDARD
42.

I-OCTANE & GENETLE MAN

– ITS ALL RIGHT
43

.J BOOG

– SEE DEH
44.

KABAKA PYRAMID

– NEVER GONNA BE A SLAVE
45.

MORGAN HERITAGE

– WHY DEM COME AROUND
46.

JAH CURE

– STRUGGLES
47.

ALAINE

– SO I LOVE
48.

JAH CURE FT COLLIE BUDDZ

– THE RIGHT ONE
49.

CECILE

– DOLLAR SIGN
50.

IKAYA

– BROKEN WINGS
51.

BUGLE

– PROMISES
52.

TURBULANCE

– STANDING TALL
53.

CHRONIXX

– MOST I
54.

JAH VINCI

– NICE AGAIN
55.

CALDINHNO

– STREET STRUGGLES (DUB)
56.

DVERCITY

– WICKED (DUB)
57.

FABAIN

– LOVE ON TOP
58.

RC

– WHY SHOUD I (DUB)
59.

TORCH

– GOOD REGGAE MUSIC
60.

DAVILLE

– ONE INNA MILLION
61.

CHRONIXX

– SMILE JAMAICA


62.

GINJAH – SWEET KILLER
DJ CASHFLOW RINSE CONTACT INFO
WHATS APP – (876)389-6717
TWITTER – @CASHFLOWRINSE
INSTAGRAM – @CASHFLOWRINSE
real deal