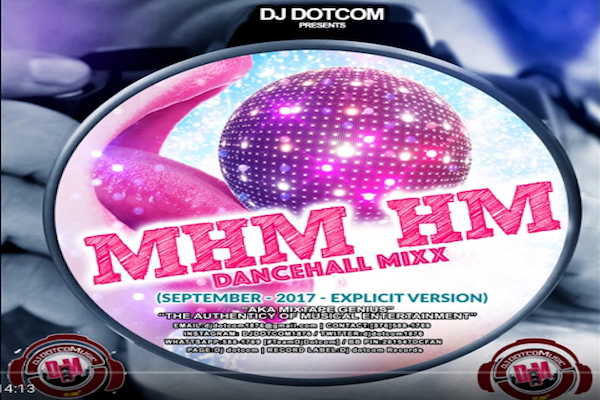 Vibe to a new big dancehall mixtape from Dj Dot Com titled Mhm Hm for September 2017, that starts with a big Aidonia's drop and then goes straight to the latest Kartel's smashing new single Mhm Hm, that is turning up Jamaica right now.
The mixtape goes on with Informer, another of Kartel's hot singles and keeps going on with the very latest dancehall hits from your favorite Jamaican artists such as Masicka, Popcaan, Tommy Lee Sparta, Jahmiel, Dre Island and then back to more Vybz Kartel, keeping it fire, keeping it lit, keeping it vibrant.
Check the full track listing for this super dope dancehall mix that sports the latest hot joints and super hits in Jamaican dancehall music as for right now and will keep you company for more than an hour of pure pleasure and will keep you current on the latest releases.
Dj Dotcom free dancehall mixtape Mhm Hm is curreenlty going nuclear and it is available for free streaming and free download clicking on the button below.
LISTEN TO DJ DOTCOM MHM HM DANCEHALL MIX SEPTEMBER 2017 EXPLICIT VERSION

DWNLD DJ DOTCOM MHM HM DANCEHALL MIX SEPT 2017
Dj DotCom Mhm Hm Dancehall Mixtape Track Listing
1.VYBZ KARTEL_MHM HM
2.VYBZ KARTEL_INFORMER
3.MASICKA_THE RIGHT PLACE
4.POPCAAN_EL CHAPO
5.POPCAAN_ANYTIME
6.TOMMY LEE SPARTA_CASUALTY
7.ALKALINE_BUSS HEAD
8.JAHMIEL_TRUST
9.VYBZ KARTEL & GAZA TUSSAN_SWEETEST DAYS
10.DRE ISLAND & POPCAAN_WE PRAY
11.IAMSTYLEZ_IT'S A PITTY
12.CHARLY BLACK_HARD WORKER (DUB)
13.JAILAH_FRASS_DOH FRASS OFFA WI
14.SHAWN STORM & KONSHENS_UP MOVE (HAFFI PROSPER)
15.MASICKA_CASH TALK
16.MASICKA_EVERYDAY
17.VERSHON_NUH JOIN
18.KEZNAMDI_NUH SKYLARKING
19.SINGING DEE_PLUG IT OUT
20.VYBZ KARTEL_SO EASY
21.VYBZ KARTEL_LUXURY DOLL
22.BUSTA RHYMES & VYBZ KARTEL & TORY LANZ_GIRLFRIEND
23.SPOOKIE_TIE ME
24.VERSHON_FROM MI YOUNG (WANNA HAVE FUN)
25.GLOWRIOUS_TOUCH THE ROAD
26.KENIEL MERITAL & AMACON_ALL NIGHT
27.TEEJAY_G LIFE
28.AIDONIA & SHATTA WALA_MY QUEEN
29.AIDONIA_BRUISE
30.CHILANDO_GOOD WHINE
31.ROLLIE FRESH_CYAAH ROLL
32.ALKALINE_GOLDEN HOLD
33.MAVADO_NO FREAK
34.VYBZ KARTEL & PARTYNEXTDOOR_RUN UP (REMIX)
35.GENNA BOUNCE_INSTRUMENTAL (EMUDIO RECORDS)
36.AIDONIA_YEAH YEAH YEAH!
37.GOVANA_GYAL CLOWN (DUB)
38.VERSATILE_QUICK QUICK
39.LADEN_CERTIFIED GALLIS
40.CHI CHING CHING_ROCK DI WORLD
41.DING DONG_FLING
42.FULLY BAD_HOLD DEM DEH
43.1 GUH_INSTRUMENTAL (YVP RECORDS)
44.AIDONIA_FIRE
45.GOVANA_LOCO
46.VERSHON_INSTANT
47.VERSATILE_PORTAL
48.POPCAAN_1 GUH (WE RUN DI GRUNG)
49.TOMMY LEE SPARTA_OTHERWISE
50.RICKEY TEETZ_MURDERER
51.BORN KILLA_INSTRUMENTAL (DAMAGE MUSIC)
52.TOMMY LEE SPARTA_TARGET
53.MASICKA_KNOCK IT
54.CHARLY BLACK_GRUDGE (DUB)
55.ISHAWNA & VYBZ KARTEL_HOW CAN YOU
56.VYBZ KARTEL & ISHAWNA_WASHER DRYER
57.ALKALINE & WSTRN_TXTIN'
58.LANZ_SHE NAH LEGGO (DUB)
59.ALKALINE_MY LOVE
60.VYBZ KARTEL & RIHANNA_WILD EXCHANGE
61.KU$H KA$H_BAD
62.JAHMIEL_FREESTYLE
real deal