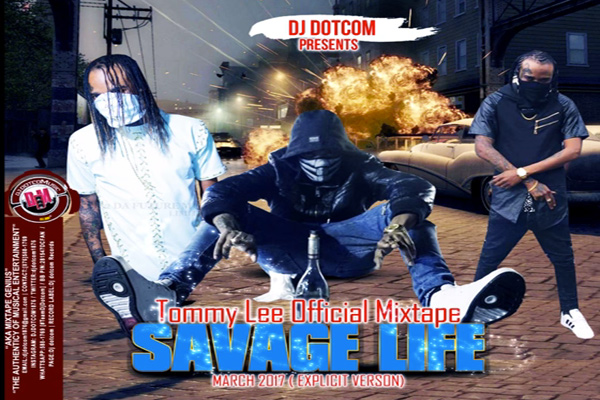 Fans of Jamaican recording dancehall artist Tommy Lee Sparta catch up with his latest hit singles streaming or downloading his official mixtape, that takes the title from one of his latest hit song of 2017 – Savage Life.
Brought to you by Dj Dotcom – Savage Life – includes all the latest singles from the gothic Jamaican dancehall artist that started his career in Kartel's Gaza Portmore Empire.
Sparta official mixtape sports both new and classic anthems like his first single Warn Dem, Goat Head a diss song for Bounty Killer and also - Informer – featuring World Boss Vybz Kartel.

From his latest tunes to some of his biggest tunes from the beginning of his career stream or download Sparta's official mixtape,  a non stop mix more than an hour long following the links below.
DJ DOTCOM PRESENTS TOMMY LEE SPARTA OFFICIAL MIXTAPE SAVAGE LIFE
DWNLD TOMMY LEE SPARTA OFFICIAL MIX 2017 [TRACKED]DWNLD TOMMY LEE SPARTA OFFICIAL MIX 2017 [SINGLE FILE]
Tommy Lee Sparta Official Mixtape – Savage Life Track Listing
1. Tommy Lee Sparta – L.A. STYLE
2. Tommy Lee Sparta – TEAM UP
3. Tommy Lee Sparta – SAVAGE LIFE
4. Tommy Lee Sparta – VIBES (INNA THIS)
5. Tommy Lee Sparta – DEMON GIRL
6. Tommy Lee Sparta – PUSSY MECHANIC
7. Tommy Lee Sparta – BUSS A BLANK
8. Tommy Lee Sparta – DARK CLOUDS
9. Tommy Lee Sparta – NOT A BADNESS
10.Tommy Lee Sparta – BUSS YOU HEAD
11.Tommy Lee Sparta – DARKNESS RISE
12.Tommy Lee Sparta – HEAD SHOT
13.Tommy Lee Sparta – SOUL REAPER
14.Tommy Lee Sparta – NO CHANCE
15.Tommy Lee Sparta – KLA KLAM
16.Tommy Lee Sparta – BADMAN DAWG
17.Tommy Lee Sparta – RUN OUT
18.Tommy Lee Sparta – UNCLE DEMON (SHOCK)
19.Tommy Lee Sparta – PSYCHO
20.Tommy Lee Sparta – LYRICAL BOMBER
21.Tommy Lee Sparta – SOME BWOY
22.Tommy Lee Sparta – DEM NUH BAD
23.Tommy Lee Sparta – GRAVE YARD
24.Tommy Lee Sparta – MANIAC
25.Tommy Lee Sparta – C4
26.Tommy Lee Sparta – TOM & JERRY
27.Tommy Lee Sparta – WATCH DEM
28.Tommy Lee Sparta – FI GET A 4WARD
29.Tommy Lee Sparta – GOAT HEAD
30.Tommy Lee Sparta – REALITY STORY
31.Tommy Lee Sparta – MONEY MAKE FRIEND
32.Tommy Lee Sparta – FRIEND ANTHEM (REAL LINK) (FEAT. MASICKA)
33.Tommy Lee Sparta – CAPTAIN SPARTA
34.Tommy Lee Sparta – INFORMER (FEAT. VYBZ KARTEL)
35.Tommy Lee Sparta – STOCKING UP DI PAPER
36.Tommy Lee Sparta - WE WANT PAPER
37.Tommy Lee Sparta – WE GOT FOOD
38.Tommy Lee Sparta – MILLION DOLLA
39.Tommy Lee Sparta – DUTTY MONEY
40.Tommy Lee Sparta – DOLLA BILL
41.Tommy Lee Sparta – DREAM (NUH RAMP WID MI BC FOOD)
42.Tommy Lee Sparta – WHINE UP
43.Tommy Lee Sparta – NYMPHO
44.Tommy Lee Sparta – BUN NU NU
45.Tommy Lee Sparta – LET ME PUT IT IN
46.Tommy Lee Sparta – PAT IT UP
47.Tommy Lee Sparta – DUH YUH TING
48.Tommy Lee Sparta – A MILLION
49.Tommy Lee Sparta – LIVE WE LIFE (FEAT. BLAK DIAMON)
50.Tommy Lee Sparta – PARTY NON STOP
51.Tommy Lee Sparta – SPARTAN PARTY
52.Tommy Lee Sparta – MAN DEH YAH (FEAT. VERSHON)
53.Tommy Lee Sparta – PERSON OF INTEREST
54.Tommy Lee Sparta – DESTRUCTION OF MAN
55.Tommy Lee Sparta – HOLDING OUT THE PRESSURE
56.Tommy Lee Sparta – LIVE MY LIFE
57.Tommy Lee Sparta – SPARTAN SOLDIER
58.Tommy Lee Sparta – GOD EYE
59.Tommy Lee Sparta – HERO
60.Tommy Lee Sparta – NUMB (SKUNK)
61.Tommy Lee Sparta – SPARTAN ANGELS (FEAT. TABETA CSHAE SPARTA)
real deal