Enjoy a new mixtape from Uk, from Dj Fearless, that never rests. His latest project is called – Bruk Out and dropped few days ago.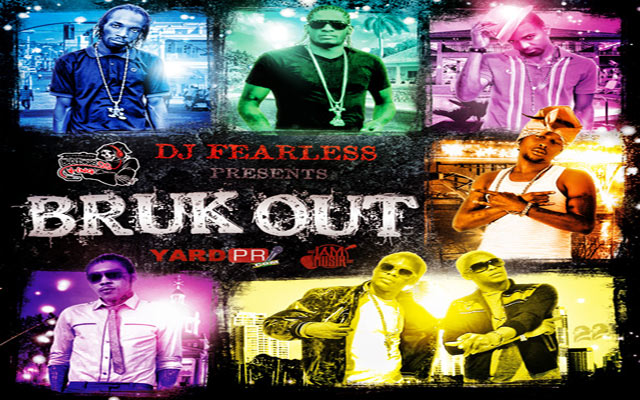 DJ Fearless Bruk Out Mixtape only features & highlights six artists: Mavado, Aidonia, Konshens, Popcaan, Rdx & World Boss Vybz Kartel.
This is a Gyal Mix for bubbling hard in the summer season. Stream & downLoad below with track listing.
STREAM  DJ FEARLESS BRUK OUT DANCEHALL MIXTAPE – JULY 2013

DJ FEARLESS BRUK OUT MIXTAPE DOWNLOAD LINK
DJ FEARLESS BRUK OUT MIXTAPE MOBILE LINK
DJ FEARLESS BRUK OUT TRACKLIST
MAVADO
1. Bruk Out
2. Give It All To Me
3. Caribbean Girls
4. Special Kinda Gyal
5. Body Look
6. Agony
AIDONIA
7. So Good
8. Bad Inna Dance
9. Virgin Mary
10. Morning Ride
11. Pon Di Cocky
12. Bruki
13. Grip Me
14. Jook So
15. She Like Me
16. Di Ride
17. Tip Pon Yuh Toe
18. Your Body A Di Best
19. Ride
20. Baby
 KONSHENS
21. Every Gyal
22. Thank God Fi Di Gyal Dem
23. Mek It Boom
24. Gyal Sidung
25. Gyal A Bubble
26. Stop Sign
VYBZ KARTEL
34. Bubble Hard
35. Street Vybz Girl
36. Half On A Baby
37. Whine Fi Money
38. Convertible
39. Georgina
40. Business
41. Billion Dollar
42. Right Wine
43. Hurt It Up
44. Ever Blessed
45. No Bed
46. So Much Gyal
47. Freaky Gyal Pt 3
POPCAAN
27. Unruly Gal
28. Bere Gyalniss
29. Get Gyal Easy
30. Party Non Stop
31. Unruly Rave
real deal