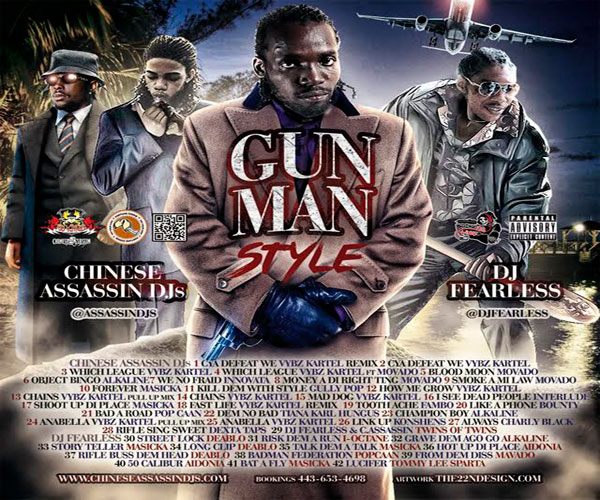 UK badness King DJ Fearless & Chinese Assassin dropped a new hard hitting dancehall mixtape titled – Gunman Style Mixtape for this month of November 2015.
Enjoy a new new free dancehall mixtape to listen to or download packed with the baddest bad man tunes and gun songs of the latest months, including all the latest Vybz Kartel songs, Mavado songs, Gully Bop newest hit where he pays omage to Kartel & Buju Banton, Alkaline Object Bingo, and more.
Dj Fearless & Chinese Assassin Gunman Style Dancehall Mix features also the latest hits from Masicka, I-Octane, Popcaan, Tiana , Dexta Dexps and more Jamaican dancehall reggae artists.
LISTEN TO CHINESE ASSISIN & DJ FEARLESS -GUNMAN STYLEDANCEHALL MIXTAPE – NOV 2015
CHINESE ASSASSIN DJ FEARLESS TRACKED LINK
CHINESE ASSASSIN DJ FEARLESS MOBILE LINK
DJ FEARLESS & CHINESE ASSASSIN GUNMAN STYLE DANCEHALL MIXTAPE TRACK LIST
ASSASSIN DJS
CYA DEFEAT WE- VYBZ KARTEL REMIX (ASSASSIN DJS)
CYA DEFEAT WE – VYBZ KARTEL (ASSASSIN DJS)
WHICH LEAGUE – VYBZ KARTEL (ASSASSIN DJS)
WHICH LEAGUE – VYBZ KARTEL FT MOVADO (ASSASSIN DJS)
BLOOD MOON – MAVADO (ASSASSIN DJS)
OBJECT BINGO – ALKALINE (ASSASSIN DJS)
WE NO FRAID – INNOVATA (ASSASSIN DJS)
MONEY A DI RIGHT TING – MAVADO (ASSASSIN DJS)
SMOKE A MI LAW – MAVADO (ASSASSIN DJS)
FOREVER – MASICKA (ASSASSIN DJS)
KILL DEM WITH STYLE – GULLY POP (ASSASSIN DJS)
HOW ME GROW – VYBZ KARTEL (ASSASSIN DJS)
CHAINS – VYBZ KARTEL PULL UP MIX (ASSASSIN DJS)
CHAINS – VYBZ KARTEL (ASSASSIN DJS)
MAD DOG – VYBZ KARTEL (ASSASSIN DJS)
I SEE DEAD PEOPLE – INTERLUDE (ASSASSIN DJS)
SHOOT UP DI PLACE – MASICKA (ASSASSIN DJS)
FAST LIFE – VYBZ KARTEL REMIX (ASSASSIN DJS)
TOOTH ACHE – FAMBO (ASSASSIN DJS)
LIKE A PHONE BOUNTY (ASSASSIN DJS)
BAD A ROAD – POP CAAN (ASSASSIN DJS)
DEM NO BAD – TIANA KARL HUNGUS (ASSASSIN DJS)
CHAMPION BOY- ALKALINE (ASSASSIN DJS)
ANABELLA – VYBZ KARTEL PULL UP MIX (ASSASSIN DJS)
ANABELLA- VYBZ KARTEL (ASSASSIN DJS)
LINK UP – KONSHENS (ASSASSIN DJS)
ALWAYS – CHARLY BLACK (ASSASSIN DJS)
RIFLE SING SWEET – DEXTA TAPS (ASSASSIN DJS)
DJ FEARLESS & C.ASSASSIN – TWINS OF TWINS (ASSASSIN DJS)

DJ FEARLESS
STREET LOCK – DEABLO
(
DJ FEARLESS
)
RISK DEM A RUN – I-OCTANE
(
DJ FEARLESS
)
GRAVE DEM AGO GO – ALKALINE
(
DJ FEARLESS
)
STORY TELLER – MASICKA
(
DJ FEARLESS
)
LONG CLIP – DEABLO
(
DJ FEARLESS
)
TALK DEM A TALK – MASICKA
(
DJ FEARLESS
)
HOT UP DI PLACE – AIDONIA
(
DJ FEARLESS
)
RIFLE BUSS DEM HEAD – DEABLO
(
DJ FEARLESS
)
BADMAN FEDERATION – POPCAAN
(
DJ FEARLESS
)
FROM DEM DISS – MAVADO
(
DJ FEARLESS
)
50 CALIBUR – AIDONIA
(
DJ FEARLESS
)
BAT A FLY – MASICKA
(
DJ FEARLESS
)
LUCIFER – TOMMY LEE SPARTA
(
DJ FEARLESS
)
real deal