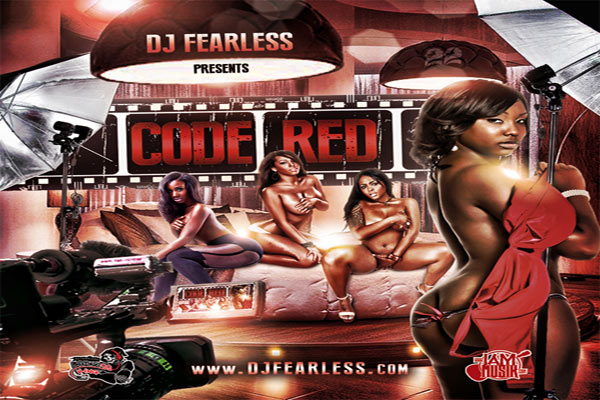 Missgaza mixtape session is coming back strong with a new release for September 2013 from UK based Dj Fearless. 

This is his latest dancehall mix tape and it's called  "Code Red".
Dj Fearless Code Red mixtape has older tunes from like 2006 until now and is a gyal mix  with a bit of badness. Code Red includes hits from Vybz Kartel, Mavado, Aidonia,Busy Signal, Demarco,Macka Diamond and many more artists, check the track list posted below.

STREAM DJ FEARLESS -CODE RED DANCE HALL MIXTAPE 2013
DWNLD DJ FEARLESS CODE RED MIXTAPE
DWNLD DJ FEARLESS CODE RED MIXTAPE MOBILE
{WHEN DOWNLOADING MAKE SURE YOU CLICK THE ORANGE DOWNLOAD BOX OR ENTER THE CAPTCHA}
DJ FEARLESS CODE RED MIXTAPE TRACK LIST
1. Vybz Kartel & Delicious

– Rough Sex
2. Busy Signal -

Mek She Stamma
3. Aidonia -

Gyal Say Wooiii
4. Black Ryno -

Thug Anthem
5. Vybz Kartel & Jah Vinci -

Weh Dem Ago
6. Mavado -

Real Killa
7. Aidonia -

Dats Up Watz Up
8. Macka Diamond -

Hula Hoop
9. Instrumental -

Movie Star Riddim
10. Mavado -

Dem A Talk
11. Mavado -

Let Me Go
12. Ding Dong & Strent -

Party Cup
13. Instrumental -

Showbiz Riddim
14. Demarco -

Bun It Off
15. Mavado -

Movie Star
16. Aidonia -

She Like Me
17. Instrumental -

Mood For Love
18. Aidonia -

Mood For Love
19. Mavado -

She Beat Him
20. Vybz Kartel -

Fatta Dan Di Pound
21. Vybz Kartel -

Yuh Know
22. Mavado -

Come Roun
23. Vybz Kartel -

Hop Off
24. Macka Diamond -

Bun Him
25. Tony Matterhorn -

Goodas Fi Dem
26. Tony Matterhorn & Mr Easy -

Wickedest Ride
27. Vybz Kartel -

Beyonce Wine
28. Aidonia -

Ukku Bit
29. Vybz Kartel -

No
30. Mavado -

What Dem A Say
31. Tony Matterhorn -

Sit Down Pon It
32. Beenie Man -

Reverse Di Ting
33. Aidonia & Suhverto -

Wi Siiick
34. Mavado -

Sting Dem
35. Busy Signal -

Ms Rubba Waist
36. Tony Matterhorn -

Dash Out Yuh Pussy
37. Aidonia -

Supm Fi You
38. Tony Matterhorn -

Dutty Wine
39. Mavado –

Neva Believe U
40. Aidonia -

Oh Oh Oh Oh Oooh
41. Mavado -

Sweetest Time
42. Charley Blacks -

Chat Patois
43. Demarco -

She Cant Wait
44. Vybz Kartel –

Daggering
45. Instrumental -

Premium Riddim
46. Aidonia -

Tell Me
47. Major Lazer -

Pon De Floor
48. Vybz Kartel -

Tic Toc
49. Aidonia -

In Her Belly
50. Vybz Kartel -

Work Out
51. Elephant Man -

We Ketch Dem
52. Mavado -

Inna Di Car Back
53. Vybz Kartel -

Bruk Yuh Back
54. Vybz Kartel -

Cherry Tree
55. Vybz Kartel -

Hot Fuk
56. Busy Signal -

Wine Pon Di Edge
57. Aidonia -

Hot Fuck
58. Aidonia -

Give It Up
59. Vybz Kartel -

Dutty Wine
60. Spice -

Anuh Me
61. Kiprich-

Sex Ride
62. Mavado -

Which Gal
63. Erup -

Click Mi Finger
64. Hotta Ball -

Nuttin Fi Show
65. Instrumental -

Re-Tweet Riddim
66. Flexxx & Chase Cross -

Aint Got Dough
67. Versatile -

Put It On
68. Aidonia -

Fall In Love
69. Beenie Man -

Hmm Hmm
70. Anthony B –

Tease Her
71. Beenie Man -

Back It Up
72. Mr Vegas -

Wine & Stop
73. Mr Vegas -

Gallis
74. Tony Matterhorn -

Role Out
75. Aidonia -

Bruk Out
76. Vybz Kartel -

Mr Officer
77. Mavado -

Hope & Pray
78. Vybz Kartel -

Bicycle
79. Vybz Kartel -

Tell Him A Lie
80. Busy Signal -

Bad Wud
real deal