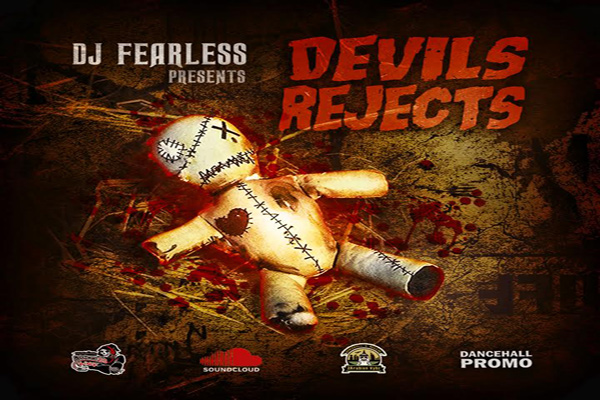 Badness King DJ Fearless release a new super loaded dancehall mixtape titled Devils Rejects for January 2017.
As usual the very latest  & some classic dancehall hits from Vybz Kartel, Popcaan, Aidonia, Sparta, Alkaline, Mavado , Masika, and more Jamaican dancehall artists are featured in the mix of the talented and popular disc jock based in London, UK with Jamaican roots.
Check the full track listing for the newest Fearless mix posted below and stream or download the latest & baddest dancehall hits of 2017 via Sound Cloud player or clicking on the buttons below, the mix is also available for mobile downloads.
Stream Or Download DJ Fearless Devil Rejects (Dancehall Mix 2017)
DWNLD DJ FEARLESS DEVIL REJECTS MIX 2017 TRACKED
DWNLD DJ FEARLESS DEVIL REJECTS MIX 2017 TRACKED
DJ Fearless Devil Rejects Track Listing (Dancehall 2017)
1. Vybz Kartel – Closed Casket
2. Aidonia – Weh Talkin A Guh
3. Tommy Lee Sparta – Dark Cloud
4. Alkaline – Death To Microwave
5. Popcaan – Unruly King
6. Popcaan – Addictive
7. Vybz Kartel – Wine To Di Top
8. Popcaan – Frass Box
9. DJ FearLess Live In Paris – Interlude
10. Vybz Kartel – Punany A Mi Best Friend
11. Vybz Kartel – Business
12. Vybz Kartel – Champagne Bubble
13. Alkaline – Things Mi Love
14. Mavado – Agony
15. Aidonia – So Good
16. Vybz Kartel – Hold Me
17. Vybz Kartel – Mi Remember
18. Alkaline - Anywhere We Go
19. Mavado – Wildest Thing
20. Masicka – Tick A Little
21. Alkaline – Ever Clean
22. Masicka – Wah Fuck
23. Aidonia – Boom Flick
24. Vybz Kartel – Pussy Me Say
25. Vybz Kartel – Louis V
26. Vybz Kartel – Dark Shades
27. Vybz Kartel – Man Straight
28. Spice – So Mi Like It
29. Alkaline – Gyal Bruk Out
30. Vybz Kartel – Pretty Face
31. Vybz Kartel - Addi Truth
32. Vybz Kartel – Change Mi
33. Mavado – Only Gyal
34. Alkaline – Obeah
35. Aidonia - Ig Girls 
36. QQ – Bun
37. Vybz Kartel - Your Little Shorts
38. Vanessa Bling & Masicka – Don
39. Masicka – Top Striker
40. Tommy Lee – Buss You Head
41. Jayds & Size Ten – WWII
42. Aidonia – Banga
43. Tommy Lee – Starboy Remix
44. Popcaan – Stray Dog
45. Popcaan, Jafrass & Quada – Unruly Camp
46. Vybz Kartel – Real Youth
real deal