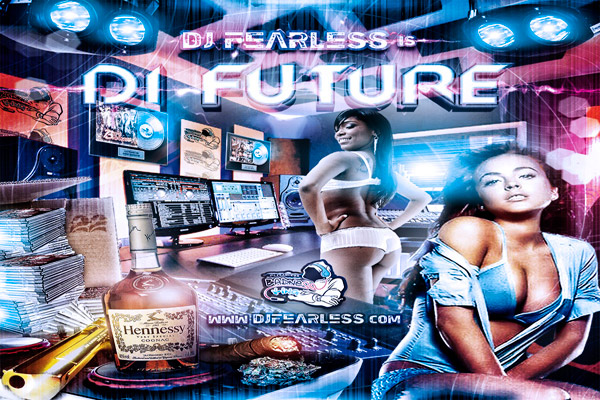 A new Dancehall mixtape from UK Badness King Dj Fearless packed, as usual, with the latest dancehall reggae hit songs and riddims from Jamaica, including the biggest and most played dance songs from your favorite Jamaican artists.
Listen to or download a new free dancehall mixtape in mp3 format,available also for mobile, titled Di Future – for the month of December 2012.
DWNLD DJ FEARLESS DI FUTURE MIXTAPE
DWNLD DJ FEARLESS DI FUTURE MOBILE LINK
Dj Fearless Di Future Mixtapeincludes some of the biggest and currents hits, dub plates,like aTommy Lee Sparta's Dub plate, and drops selected for you by the UK based DJ.
Both theGaza and the Gullyare well represented in this mixtape with the latest songs fromVybz Kartel, Mavado, Tommy Lee Sparta, Demarco,Popcaan and more
Check the playlist and stream or download some really good dancehall songs in mp3 format clicking on the download button.
LISTEN TO DJ FEARLESS – DI FUTURE – MIXTAPE
DJ FEARLESS DI FUTURE MIXTAPE DEC 2012 TRACK LIST
1. Aidonia – Di Future (Intro) 2. Mavado - Special Kinda Gyal 3. Aidonia – Like So 4. Vybz Kartel – Freaky Gal Pt. 3 5. Vybz Kartel – Money Isn't All 6. Demarco – Bold Touch 7. Konshens – Dangerous 8. Konshens – Jiggle 9. Deablo – Step It 10. Aidonia - Militancy 11. Munga – Browning 12. Charly Black – None A Dem (Dubplate) 13. Elephant Man & Beenie Man - We Nah Tek Bad Up 14. Aidonia & Deablo – Run Road 15. Tommy Lee – Some Bwoy (Dubplate) 16. Tommy Lee – Fi Get A Forward 17. Deablo - Young & Gettin It
18. Masicka – Paint The City Red 19. Masicka – Bad Like Me 20. Total & Iya Champ – Box Pon Jaw 21. Khago – Dash Out Yuh Luv 22. Zamunda – Jump 23. Blak Diamon - Karma 24. Tommy Lee – Party Time 25. Dead End Riddim - Instrumental 26. Mascika – We Bad Fi Real 27. Frisco Kid – Send Dem Home 28. Stein – Head Get Mad 29. Kiprich – Bakklefield 30. Blak Ryno – Dangerous 31. Chan Dizzy – Fear No Evil 32. Bounty Killer & Iyara – Dat Mi Say 33. Flexxx – Who Badda 34. Flexxx – Who Badda (Dubplate) 35. Navino – Cah Fear Me (Dubplate) 36. Iyara – Bad In A Real Life 37. Kiprich - Fear No Evil 38. Mavado – Nobody Till Somebody Kills You 39. Tommy Lee – Run Out 40. Vybz Kartel – Your Business 41. Vybz Kartel – Weed Smokers 42. Vybz Kartel - U.F.O Medz 43. Vybz Kartel – Get You Owner Lighter 44. Deablo - Road Runner (Introlude) 45. Deablo – Road Runner 46. Vybz Kartel – Whine Fi Money 47. Aidonia – Work Out 48. G Star – Best Whine  49. Vybz Kartel Ft. Gaza Slim – Celebrate 50. Face Off Riddim - Instrumental 51. Deablo – Gyal Dem Want 52. Aidonia – Funeral 53. Mavado - Disrespect 54. Demarco – Seh Dem Bad 55. Tommy Lee & Vybz Kartel – Blood Bath 56. Tommy Lee - Step Middle Day 57. Mavado Ft. French Montana & Ace Hood - Last Of The Real 58. I-Octane – Fly Over Bad Mind People 59. Aidonia – Better Must Come
real deal