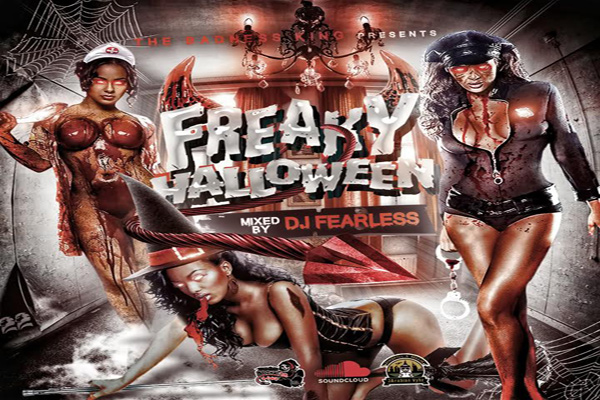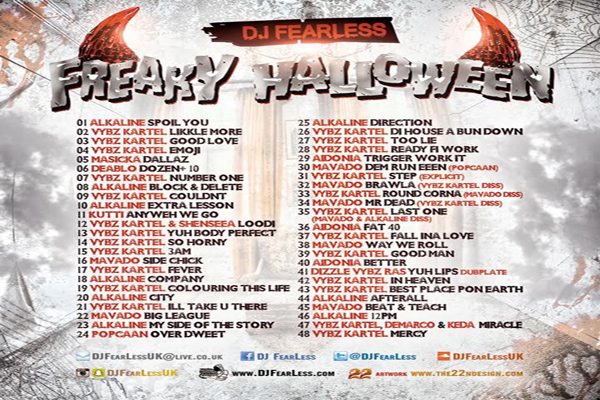 Badness King Dj Fearleass, based in London, released a new dancehall mixtape titled Freaky Halloween, as for his tradition every year Fearless comes out with an Halloween themed mix.
This year Freaky Halloween is a superloaded explicit mixtape that featurs top Jamaican Dancehall artists and their biggest most recent hits.
Known for his dope dancehall mixtapes always containing the biggest dancehall songs, Dj Fearless Freaky Halloween features mainly Vybz Kartel songs, Alkaline songs and Mavado songs voiced in the latest weeks and the most recent riddims.
DWNLD DJ FEARLESS FREAKY HALLOWEEN MIX 2016 TRACKED
DWNLD DJ FEARLESS FREAKY HALLOWEEN MIX 2016  MOBILE
Featuring Alkaline latest songs like Spoil You, Extra Lesson, Company, City  and more Vybz Kartel latest hits like Likkle More, Good Love, Emoji, Miracle – featuring Demarco and Keda as well as Mavado new songs Side Chick, Big Leaugue, the recent Brawla against Vybz Kartel and some songs from Popcaan, Aidonia, Deablo… this mix will make you dance and sing along and hit replay many many times. Available also for mobile devices, download it below.
Stream, download, check the track listing, play at your parties and make sure to have a freaky Halloween with Dj Fearless soundtrack.
Stream Dj Fearless – Freaky Halloween – Dancehall Mixtape
 Dj Fearless – Freaky Halloween – Dancehall Mixtape Track Listing
1. Alkaline – Spoil You
2. Vybz Kartel – Likkle More
3. Vybz Kartel – Good Love
4. Vybz Kartel – Emoji
5. Masicka – Dallaz
6. Deablo – Dozen+ 10
7. Vybz Kartel – Number One
8. Alkaline – Block & Delete
9. Vybz Kartel – Couldnt
10. Alkaline – Extra Lesson
11. Kutti – Anyweh We Go
12. Vybz Kartel & Shenseea – Loodi
13. Vybz Kartel – Yuh Body Perfect
14. Vybz Kartel – So Horny
15. Vybz Kartel – 3AM
16. Mavado – Side Chick
17. Vybz Kartel – Fever
18. Alkaline – Company
19. Vybz Kartel – Colouring This Life
20. Alkaline – City
21. Vybz Kartel – Ill Take U There
22. Mavado – Big League
23. Alkaline – My Side Of The Story
24. Popcaan – Over Dweet
25. Alkaline – Direction
26. Vybz Kartel – Di House A Bun Down
27. Vybz Kartel – Too Lie
28. Vybz Kartel – Ready Fi Work
29. Aidonia – Trigger Work It 
30. Mavado – Dem Run Eeen (Popcaan Diss)
31. Vybz Kartel – Step
32. Mavado – Brawla (Vybz Kartel Diss)
33. Vybz Kartel – Round Corna (Mavado Diss)
34. Mavado – Mr Dead (Vybz Kartel Diss)
35. Vybz Kartel – Last One (Mavado & Alkaline Diss)
36. Aidonia – Fat 40
37. Vybz Kartel – Fall Ina Love
38. Mavado – Way We Roll
39. Vybz Kartel – Good Man 
40. Aidonia – Better
41. Dizzle Vybz Ras – Yuh Lips – Dubplate
42. Vybz Kartel – In Heaven
43. Vybz Kartel – Best Place Pon Earth
44. Alkaline – Afterall 
45. Mavado – Beat & Teach 
46. Alkaline – 12PM
47. Vybz Kartel Demarco & Keda – Miracle
48. Vybz Kartel – Mercy
real deal