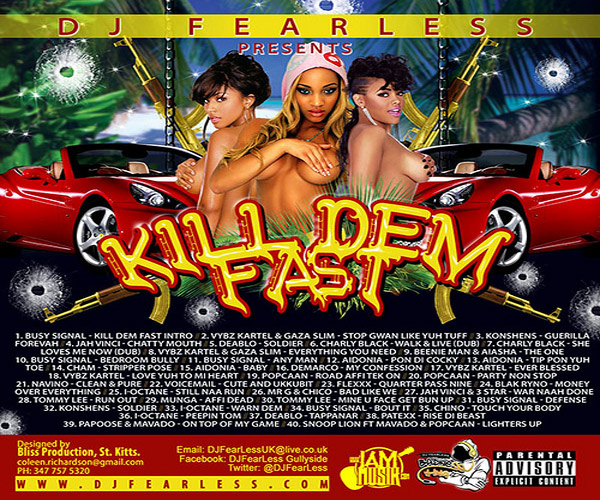 You should have became familiar by now with Dj Fearless and his explosive Dancehall mixtapes packed with the latest hits and riddims.
Dj Fearless did it again with a brand new reggae dancehall mixtape that features 40 of  the latest  and hottest tracks and latest  music riddims  from some of the most current dancehall artists from Jamaica.
Check the – KILL DEM FAST- mixtape track list posted after the mix, available for free stream and download it below.
LISTEN & DOWNLOAD  DJ FEARLESS -KILL DEM FAST DANCEHALL MIXTAPE
DJ FEARLESS – KILL DEM FAST – MIXTAPE TRACK LISTING
1.Busy Signal –

 Kill Dem Fast Intro


2.Vybz Kartel & Gaza Slim

 – Stop Gwan Like Yuh Tuff


3.Konshens –

 Guerilla Forevah


4.Jah Vinci –

 Chatty Mouth


5.Deablo –

 Soldier


6.Charly Black –

 Walk & Live (Dubplate)


7.Charly Black –

 She Loves Me Now (Dubplate)


8.Vybz Kartel & Gaza Slim

 – Everything You Need


9.Beenie Man & Aiasha

 – The One


10.Busy Signal –

 Bedroom Bully


11.Busy Signal –

 Any Man


12.Aidonia –

 Pon Di Cocky


13.Aidonia –

 Tip Pon Yuh Toe


14.Cham –

 Stripper Pose


15.Aidonia –

 Baby


16.Demarco –

 My Confession


17.Vybz Kartel –

 Ever Blessed


18.Vybz Kartel –

 Love Yuh To Mi Hear


19.Popcaan –

 Road Affi Tek On
20.Popcaan –

 Party Non Stop


21.Navino –

 Clean & Pure


22.Voicemail –

 Cute And Ukkubit


23.Flexxx –

 Quarter Pass Nine


24.Blak Ryno –

 Money Over Everything


25.I-Octane –

 Still Naa Run


26.Mr G & Chico –

 Bad Like We


27.Jah Vinci & 3 Star –

 War Naah Don


28.Tommy Lee –

 Run Out


29.Munga –

 Affi Dead


30.Tommy Lee –

 Mine U Face Get Bun Up


31.Busy Signal –

 Defense


32.Konshens –

 Soldier


33.I-Octane –

 Warn Dem


34.Busy Signal –

 Bout It


35.Chino –

 Touch Your Body


36.I-Octane –

 Peepin Tom


37.Deablo –

 Tappanar


38.Patexx –

 Rise Di Beast


39.Papoose & Mavado –

 On Top Of My Game


40.Snoop Lion Ft Mavado & Popcaan –

 Lighters Up
real deal