Enjoy a new super fresh dancehall free  Mixtape from Dj Fearless, titled "Mixed Emotions".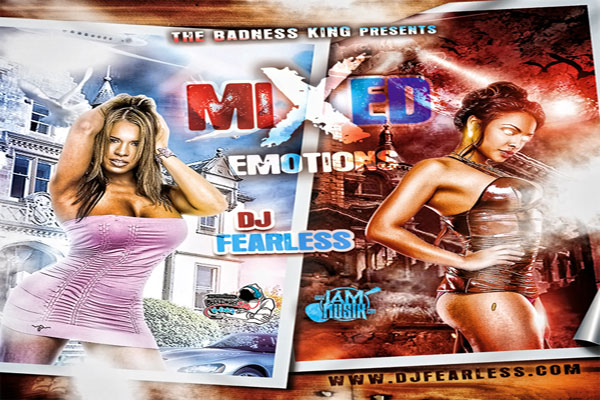 style="display:inline-block;width:320px;height:50px"
data-ad-client="ca-pub-5109320371512143"
data-ad-slot="8856860513">

Dj Fearless "Mixed Emotion" new dancehall mixtape, includes badness and gyals songs, and it's as usual packed with the latest riddims and hits dancehall reggae songs out of Jamaica. The track list is amazing and it's posted so you always know which artist sings which song! Stream or download it below.
STREAM DJ FEARLESS MIXED EMOTIONS MIXTAPE – OCTOBER 2013
DWNLD DJ FEARLESS MIXED EMOTIONS MIXTAPE OCT 2013
DWNLD DJ FEARLESS MIXTAPE MOBILE DOWNLOAD LINK FIXED
DJ FEARLESS MIXED EMOTIONS – TRACK LISTING 
1.

Tommy Lee -

Spartan Soldier – Intro
2.

Tommy Lee & Mega Banton

– Unkind
3.

Aidonia

– Climb Up
4.

Elephant Man

– Miley Cyrus
5.

Teetimus

– Nuh Fraid A Nuh Bwoy
6.

Vybz Kartel

– School
7.

Konshens

– Big People Ting
8.

Vybz Kartel

– Pussy Me Say
9.

Mavado

– Brukout
10.

Aidonia

– Never Never
11.

Vybz Kartel

– Hi
12.

Gage

– Suck Off
13.

Chan Dizzy & Hollow Point

– The Don
14.

Navino & D'koncep

– Jah Jah Never Fail I
15.

Gage

– Nitty Gritty
16.

Deablo

– Nuh Bad Up
17.

Laden

– Lend Dem Some Badness
18.

Frisco Kid

– Mad World
19.

Mavado

– Step
20.

Masicka

– Jump & Wine
21.

Mr G & Versatile

– New Pum Pum
22.

Sheba

– Mi Mek Mi Mek
23.

Cee Gee

– Hold On Steady
24.

Gage

– Party We Come
25.

Darrio

– Excuse Me
26.

I-Octane

– Wine & Jiggle
27.

Munga

- House Pon The Hill II
28.

Chan Dizzy

– Loyalty Fi Loyalty
29.

Khago

– Shatty Mek It Shoot
30.

I-Octane

– Shes Dangerous
31.

Kibaki

– Send On
32.

Showtime Damian

– Hand Fulla Money
33.

Navino

– Road Mi Seh
34.

G Starr, Bengie & Iyasregth

– Party
35.

G Starr

– We Ah Fire
36.

Mad Cobra

– Bad So
37.

Don Husky

– Knock It
38.

Richie Loop & Stein

– Bad Bwoy
39.

Deablo

– Bad Company
40

. Mad Cobra & Ratigan

– Jus Bad
41.

Demarco

– Fren Circle
42.

Versatile

– Duh Suh
43.

Popcaan

– Born Bad
44.

Popcaan

– Get High
45.

Tommy Lee

– Heaven
46.

Navino

– Intoxicated
47.

I-Octane

– Shake Up Yuh Body
48.

Bramma

– Make It Clap
49.

Assassin

– More Gal
50.

Laden

– Dip & Come Up
51.

Laden

– Bubble
52.

RDX

– Free Worl'boss
53.

Deablo

– 40 Strong
54.

Tony Matterhorn & San Frass

– Super Freak
55.

Tanso

– Whining Pro
56.

Jayds

– Somersault
57.

Deablo

– Western Union
58.

Aidonia

– Fuck Song
59.

Spice

– Ntn New
60.

Lady Saw

– Nuh Tek Mi Man
61.

Tifa

– No Romance Without Finance
62.

Charly Black

– Top General
63.

Popcaan

– Shaky Warrior
64

. Revla

– Kick Dem
65.

King Asar

– No Tomorrow
66.

Masicka

– Tell Dem Seh Nuh
67.

Deablo

– First Lady
68.

Mavado

– Lets Go On
69.

Jayds

– On The Moon
70.

Macka Diamond

– My Body Is Calling
71.

Masicka

– Greatest Pussy
72.

Stein

– Oh Oh Ohhhhhh
73.

Tommy Lee

– Spartan Soldier – Outrow
real deal