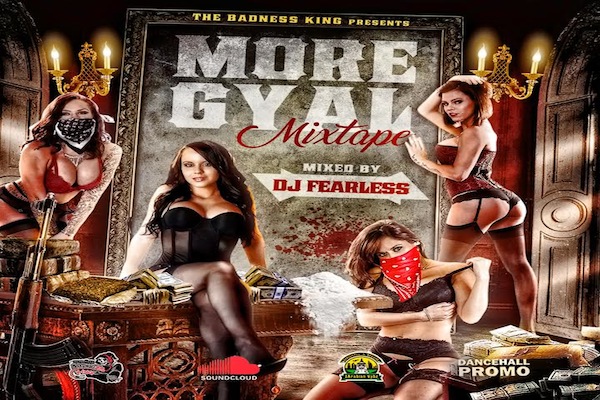 Tune in to a new free dancehall mixtape from UK Badness King Dj Fearless, one of the people favorite, titled More Gyal.
Released toward the end of last month Dj Fearless More Gal Mixtape is another classic mix that will keep you company for more than an hour boasting the biggest songs from the biggest Jamaican dancehall reggae artists of our time.
Starting with one of the latest hot tunes in dancehall right now, Bridget & Desert performed by Sparta & new dancehall diva Shenseea, going on with Kartel's nuclear dancehall hit Mhm Hm, Masicka, Gyptian featuring Sparta, more Kartel's new songs like Rune Up, Informer, Closed Casket, Eagle, Don't Come Back, Washer & Dryer, Whyne To The Top to mention some of the newest 2017 Kartel's songs included, the Fearless mix includes the last songs from Popcaan like El Chapo, Bad Yuh Bad and more as well as latest songs from Alkaline, Mavado, Jahmiel, Spice, Lisa Hyper.
As usual Dj Fearless selection, blending, drops and timing make this mix already a classic to add to your dancehall collection. This mixtape features a lot of Kartel's and his former affiliates songs (Sparta, Popcaan, Lysa Hyper and so on) and music and it will lit your day.
DWNLD DJ FEARLESS MORE GYAL DANCEHALL MIX TRACKED
Check the full track listing scrolling, stream Dj Fearless More Gyal Dancehall mix or download it for free clicking on the button below.
DWNLD DJ FEARLESS MORE GYAL DANCEHALL MIX MOBILE
DJ FEARLESS MORE GYAL FREE DANCEHALL MIX 2017 FEATURING VYBZ KARTEL, SPARTA, ALKALINE, POPCAAN, MAVADO, MASICKA,KONSHENS, JAHMIEL, SHENSEESA & MORE TOP JAMAICAN DANCEHALL ARTITST
Dj Fearless More Gal Dancehall Mixtape Track Listing
1. Tommy Lee Sparta & Shenseea – Bridgets & Desert
2. Vybz Kartel – Mhm Hm
3. Masicka – Love You
4. Gyptian & Tommy Lee Sparta – Come Over
5. Vybz Kartel & Ishawna – How Can You
6. Tommy Lee Spart – Happy Life
7. Vybz Kartel – Run Up
8. Mavado & Jahmiel – Badness
9. Tommy Lee Sparta – Not A Formula
10. Popcaan – El Chapo
11. Vybz Kartel – Informer
12. Tommy Lee Sparta – 40 Ball
13. Vybz Kartel – Closed Casket
14. Vybz Kartel – Eagle
15. Lisa Hyper – Gyal Liad
16. Vybz Kartel – Don't Come Back
17. Vybz Kartel & Ishawna – Washer Dryer
18. Vybz Kartel – Wine To The Top
19. Popcaan – Bad Yuh Bad
20. Aidonia – Yeah! Yeah
21. Vybz Kartel – Love It
22. Alkaline – Nice & Easy
23. Spice – Sheet
24. Vybz Kartel – Reverb No Delay
25. Vybz Kartel – Bicycle Ride
26. Alkaline – Eva Clean
27. Konshens – Go Go Shake
28. Mavado – Wildest Thing
29. Masicka – Tick A Little
30. Vybz Kartel – Pretty Position
31. Alkaline – Obeah
32. Mavado – Murder
33. Vybz Kartel – Wah Di Duck Get
34. Vybz Kartel & J Capri – Mamacita
35. Vyvz Kartel – Wah Mi
36. Mavado – Friends With Benefits
37. Alkaline – Fuck You
38. Masicka – Breed Her
39. Masicka – Wah Fuck
40. Alkaline – Love Doctor
41. Aidonia – Tek Time
42. Vybz Kartel – Champagne Bubble
43. Mavado – Tie Yuh
44. Vybz Kartel – Tun Back Way
45. Aidonia – Pretty Please
46. Alkaline – Bedroom Fantasy
47. Vybz Kartel – Special Delivery
48. Vybz Kartel – Volcano
49. Vybz Kartel – Likkle More
50. Vybz Kartel – Keep Him
51. Vybz Kartel – Loodi
52. Alkaline – Money Man
53. Mavado – Side Chick
54. Popcaan – Addictive
55. Vybz Kartel – I've Been In Love With You
56. Vybz Kartel – Forever
57. Alkaline – Pretty Girl Team
58. Tommy Lee Sparta – Savage Life
59. Vybz Kartel – So What
real deal