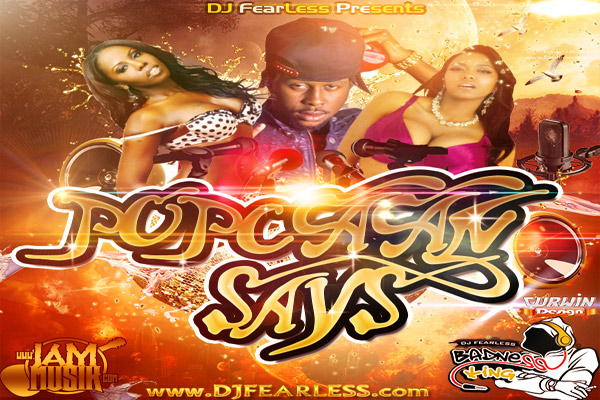 Missgaza readers should be familiar with UK Badness King Dj Fearless by now, since we have been featuring already several of his best dancehall reggae free mixtapes that you can stream or download for free in mp3 format and are posted in the downloads sections of this site.
Dj Fearless did it again and it has currently 2 new dancehall  mixtapes out right now,  this one titled  - Popcaan Says featuring 37 Popcaan songs from his beginnings till now.Check the track listing, the preview an download link below.
Jamaican recording artist Popcaan is constantly on the rise, delivering fresh and catchy instant hits that reach far beyond the borders of Jamaica. A young student of incarcerated Jamaican star Vybz Kartel, Popcaan, real name Andre Sutherland, is one of the more played and celebrated young music artist in his native Jamaica and considered one of  the top dancehall artist of our time.
Dj Fearless celebrates the career of the young talent with a free compilation of Popcaan biggest tunes and anthems since his humble beginnings. For new or old Popcaan's fans this Fearless mix is already a classic among the dancehall students world wide.
DWNLD DJ FEARLESS POPCAAN SAYS – MIXTAPE
Preview Dj Fearless – Popcaan Says – Mixtape  December 2012
Dj Fearless -Popcaan Says – Mixtape Track Listing
1. Popcaan -

Hott Grabba

Ft. Vybz Kartel
2. Popcaan -

Diss Mi Friend
3. Popcaan -

She Want Hood
4. Popcaan -

Wine
5. Popcaan -

Clarks

Ft. Vybz Kartel & Gaza Slim
6. Popcaan -

Ravin
7. Popcaan -

Party Shot
8. Popcaan -

Party Non Stop
9. Popcaan -

Clean
10. Popcaan -

Mi Baby Dat
11. Popcaan -

Only Man She Want
12. Popcaan -

Naughty Girl
13. Popcaan -

Nuh Ordinary Girl
14. Popcaan -

Pussy Suh Tight
15. Popcaan -

Popcaan Says
16. Popcaan -

Up Inna Di Club
17. Popcaan -

Cah Believe
18. Popcaan -

Middle Day
19. Popcaan -

Bad Anyweh 
20. Popcaan -

Nuh Box Pon Jaw
21. Popcaan -

Disrespect
22. Popcaan -

So Bad
23. Popcaan -

We Never Fear Dem

Ft. Vybz Kartel
24. Popcaan -

Real Badman
25. Popcaan -

We Nuh Fraid A Ppl 
26. Popcaan -

Head Bad
27. Popcaan -

Seh Dem Bad
28. Popcaan -

Hear Dem A Talk
29. Popcaan -

Step Like Dead

Ft. Tommy Lee
30. Popcaan -

Fry Yiy
31. Popcaan -

Bare Badness
32. Popcaan -

Roll Out Mad
33. Popcaan -

Kill Bwoy Quick
34. Popcaan -

The System
35. Popcaan -

Keep Hustling
36. Popcaan -

Gangster City
37. Popcaan -

Dream
real deal