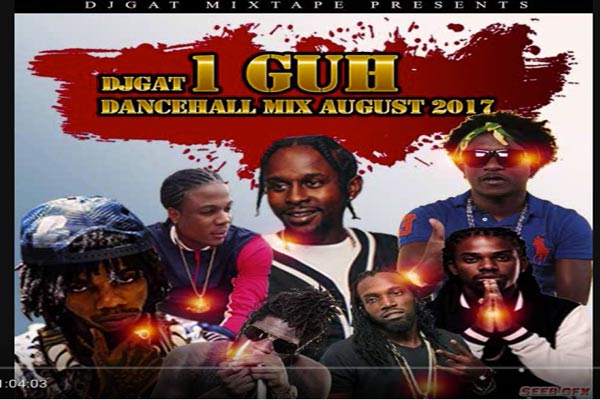 Stream or download a new dancehall mixtape featuring all the summer dancehall bangers in one place!
Titled 1 Guh Dancehall Mix after the now popular 1 Guh Riddim,

that you can still stream or download here,

and brought to you by Jamaican based Dj Gat this new and fresh dancehall mix boast all the hottest new dancehall hit songs coming out from Jamaica right now.
Featuring the latest anthem from Aidonia with Yeah Yeah, a song that is facing ban in Jamaica, Alkaline's newest hits, Tommy Lee Sparta newest songs, Popcaan, Masicka but also Kibaki, Govana and a bunch of Jamaican upcoming recording artists you may not be still familiar with, because the are just coming out in their motherland, this mix is a well balanced project with dancehall stars and newest names in the game and always sporting good songs.
Check the full track listing posted below and stream or download for free Dj Gat 1 Guh Dancehall Mix August 2017.
DOWNLOAD DJ GAT 1 GUH DANCEHALL MIX AUGUST 2017 RAW [VERSION] FT AIDONIA/POPCAAN/ALKALINE

DWNLD DJ GAT 1 GUH DANCEHALL MIXTAPE
DJ GAT 1 GUH DANCEHALL MIX TRACK LISTING
1.POPCAAN – 1GUH
2.AIDONIA – FIRE
3.TOMMY LEE - OTHERWISE
4.GOVANA – LOCO
5.GOVANA – Gyal Clown
6.VERSATILE - Quick Quick
7.LIQUID – Money Up
8.AIDONIA - Yeah Yeah
9.ALKALINE – GOLDEN HOLD
10.MAVADO – NO FREAK
11.BAZZA – BOOM PON IT
12.BAZZA T – WHAT A GYAL BAD
13.JHAYTEA - Fuck To Di Beat
14.BAZRA GOD – BoomBoom
15.VYBZ KARTEL ft ISHAWNA – Washer Dryer
16.ALKALINE – My Love
17.BABI SHI FT YD – GI MI LOVE
18.BABI SHI MIX - JUS COME -
19.BABI SHIi – Bredren Weh
20.BANG METAL – Don't Play
21.NO BODY- BANG METAL
22.TOMMY LEE SPARTA – PUSH A FOOT IF UNNO BAD
23.MAVADO – LAUGH AN GWAAN
24.ALKALINE – Red Eyes
25.JAHMEIL – Big Moves
26.FLEXX – LIKKLE BITA CHOTHES
27.KEMMIKAL – GRIND & SACRIFICE
28.KIBAKI – PARTY NICE
29.BANG METAL – HOT FI DI SUMMER
30.POPCAAN- Still Feel Good
31.MASICKA – Give It My All
32.BAZRA GOD – SUMMER TIME
33.JAY-5 – LIT
34.LISA MERCEDEZ - BACK IT UP -
35.JAVADA FT VOICEMAIL - HOOKED ON YOU
36.PUFF UP THE SMOKE – AJRENALIN
37.NEVER RUN WEH – POINT ZERO
38.MASICKA – Knock It
39.TOMMY LEE - TARGET
40.ALKALINE – IMPACT
42. KADINAL FYAH - TOP SHELLA (GENASYDE END)
43.ALKALINE – #DEATHTOMICROWAVE
44.MASICKA – Wave It
real deal