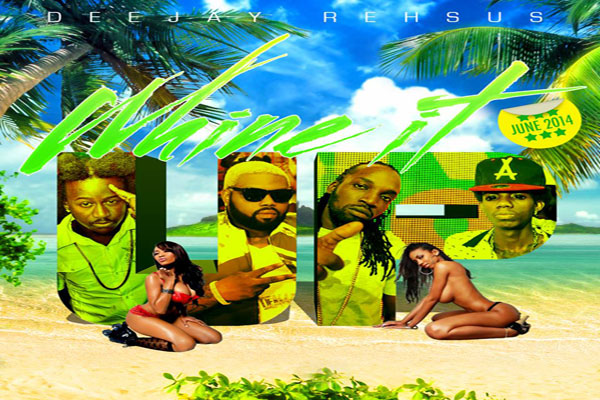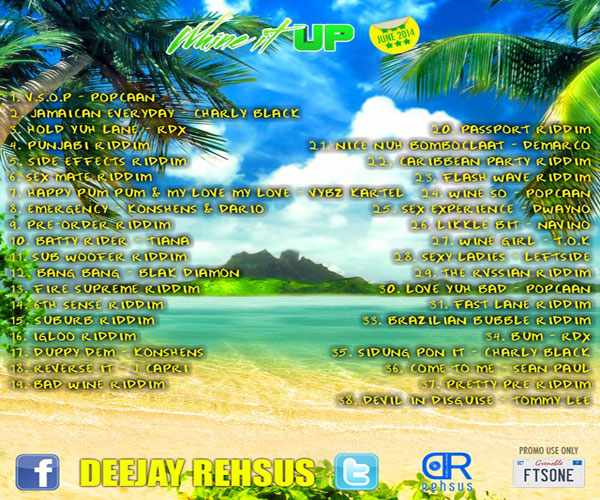 DJ REhSUS Presents the latest edition of his fortunate series "Whine It Up" –  Dancehall Mixtape for June 2014.
DJ REhSUS -

Whine It Up – Mixtape

includes the very latest dancehall hits  &

latest dancehall riddims for this Summer 2014 

from some of the

biggest dancehall  artists

including Vybz Kartel, Popcaan, Konshens , Blak Diamon, J Capri, Tommy Lee, Navino, RDX and many more.
Imcluding some of the classic dancehall reggae anthems of this Summer 2014 Whine It Up is a very energetic dancehall mix that will keep you company for more than an hour boasting the biggest & latest songs from the top Jamaican artists of our time. Check the full track listing posted below with the full songs and artists names.
Stream or download clicking below. Enjoy.
Stream or Download DJ REhSUS -WHINE IT UP -DANCEHALL MIXTAPE – JUNE 2014
[fresh_button url="http://www.mediafire.com/download/0u0k77onf06vdgh/Deejay+REhSUS+-+WHINE+IT+UP+%28JUNE+2014%29.zip" size="normal" color="red" target="_blank" class=""]DWNLD DJ REhSUS WHINE IT UP MIXTAPE JUNE 2014[/fresh_button]
[fresh_button url="http://www.4shared.com/zip/xmMXuE0Cce/Deejay_REhSUS_-_WHINE_IT_UP__J.html" size="normal" color="orange" target="_blank" class=""]DWNLD WHINE IT UP MIXTAPE JUNE 2014[/fresh_button]
DJ REhSUS -WHINE IT UP DANCEHALL MIXTAPE 

TRACK LIST
1.

V.S.O.P – POPCAAN
2. JAMAICAN EVERYDAY – CHARLY BLACK
3. HOLD YUH LANE – RDX


4.

PUNJABI RIDDIM
5. SIDE EFFECTS RIDDIM
6. SEX MATE RIDDIM
7. HAPPY PUM PUM & MY LOVE MY LOVE – VYBZ KARTEL
8. EMERGENCY – KONSHENS & DARIO
9. PRE-ORDER RIDDIM
10. BATTY RIDER – TIANA
11. SUB WOOFER RIDDIM
12. BANG BANG – BLAK DIAMON
13. FIRE SUPREME RIDDIM


14.

6TH SENSE RIDDIM
15. SUBURB RIDDIM
16. IGLOO RIDDIM
17. DUPPY DEM – KONSHENS
18. REVERSE IT – J CAPRI
19. BAD WINE RIDDIM
20. PASSPORT RIDDIM
21. NICE NUH BOMBOCLAAT – DEMARCO
22. CARIBBEAN PARTY RIDDIM
23. FLASH WAVE RIDDIM
24. WINE SO – POPCAAN
25. SEX EXPERIENCE – DWAYNO
26. LIKKLE BIT – NAVINO
27. WINE GIRL – T.O.K
28. SEXY LADIES – LEFTSIDE
29. THE RVSSIAN RIDDIM
30. LOVE YUH BAD – POPCAAN
31. FAST LANE RIDDIM
33. BRAZILIAN BUBBLE RIDDIM
34. BUM – RDX
35. SIDUNG PON IT – CHARLY BLACK
36. COME TO ME – SEAN PAUL
37. PRETTY PRE RIDDIM
38. DEVIL IN DISGUISE – TOMMY LEE
real deal