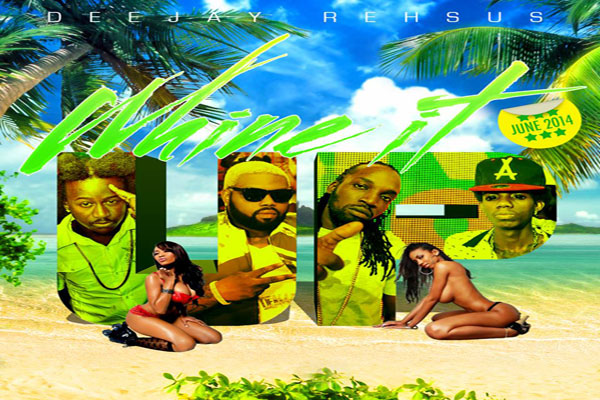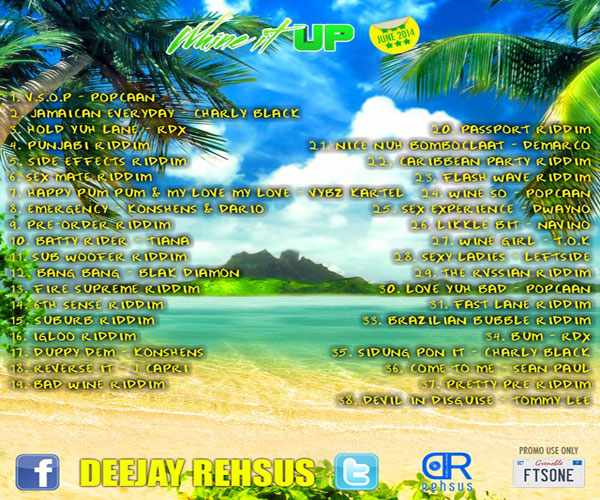 DJ REhSUS Presents the latest edition of his  fortunate series "Whine It Up" –  Mixtape for June 2014.
DJ REhSUS - Whine It Up – Mixtape includes the very latest dancehall hits  & latest dancehall riddims for this Summer 2014 from some of the biggest dancehall  artists including Vybz Kartel, Popcaan, Konshens , Blak Diamon, J Capri, Tommy Lee, Navino, RDX and many more. Check the track listing posted below.
Stream or download clicking below. Enjoy.
Stream or Download DJ REhSUS -WHINE IT UP -DANCEHALL MIXTAPE – JUNE 2014

[fresh_button url="http://www.mediafire.com/download/0u0k77onf06vdgh/Deejay+REhSUS+-+WHINE+IT+UP+%28JUNE+2014%29.zip" size="normal" color="red" target="_blank" class=""]DWNLD DJ REhSUS WHINE IT UP MIXTAPE JUNE 2014[/fresh_button]
[fresh_button url="http://www.4shared.com/zip/xmMXuE0Cce/Deejay_REhSUS_-_WHINE_IT_UP__J.html" size="normal" color="orange" target="_blank" class=""]DWNLD WHINE IT UP MIXTAPE JUNE 2014[/fresh_button]
DJ REhSUS -WHINE IT UP TRACK LIST
[fresh_one_half]
1. V.S.O.P – POPCAAN
2. JAMAICAN EVERYDAY – CHARLY BLACK
3. HOLD YUH LANE – RDX
4. PUNJABI RIDDIM
5. SIDE EFFECTS RIDDIM
6. SEX MATE RIDDIM
7. HAPPY PUM PUM & MY LOVE MY LOVE – VYBZ KARTEL
8. EMERGENCY – KONSHENS & DARIO
9. PRE-ORDER RIDDIM
10. BATTY RIDER – TIANA
11. SUB WOOFER RIDDIM
12. BANG BANG – BLAK DIAMON
13. FIRE SUPREME RIDDIM
14. 6TH SENSE RIDDIM
15. SUBURB RIDDIM
16. IGLOO RIDDIM
17. DUPPY DEM – KONSHENS
18. REVERSE IT – J CAPRI
19. BAD WINE RIDDIM[/fresh_one_half]
20. PASSPORT RIDDIM
21. NICE NUH BOMBOCLAAT – DEMARCO
22. CARIBBEAN PARTY RIDDIM
23. FLASH WAVE RIDDIM
24. WINE SO – POPCAAN
25. SEX EXPERIENCE – DWAYNO
26. LIKKLE BIT – NAVINO
27. WINE GIRL – T.O.K
28. SEXY LADIES – LEFTSIDE
29. THE RVSSIAN RIDDIM
30. LOVE YUH BAD – POPCAAN
31. FAST LANE RIDDIM
33. BRAZILIAN BUBBLE RIDDIM
34. BUM – RDX
35. SIDUNG PON IT – CHARLY BLACK
36. COME TO ME – SEAN PAUL
37. PRETTY PRE RIDDIM
38. DEVIL IN DISGUISE – TOMMY LEE
real deal