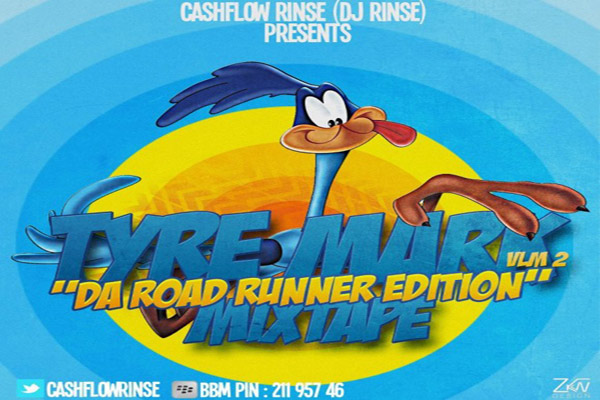 Download DJ Rinse -Tyre Mark Da Road Runner Mixtape Vol 2 – Dec 2012, preview it, and blast it because is one the of the contenders for the best Mixtapes of the year and includes the latest hits from your favorite Jamaican Reggae Dancehall artists as some cool drops and dubs.
FROM VYBZ KARTEL TO MAVADO, I-OCTANE, BOUNTY, MASICKA, KHAGO, BEENIE MAN, POPCAAN, TOMMY LEE, ZAMUNDA, CHRIS MARTIN AND SO ON ALL THE HOTTEST AND LATEST RIDDIMS  & HIT SINGLES BLENDED TO PERFECTION.
DWNLD DJ CASH FLOW RINSE MIXTAPE
Listen to Dj Rinse – Tyre Mar Da Road Runner Mixtape Vol 2
DJ Rinse Tyre Mark Da Road Runner Mixtape Vol 2 Track Listing
1.INTRO -
VOICEMAIL,AIDONIA,KALADO,SPICE
2.I-OCTANE -
WANT WEH SHE HAVE
3.
SUPA HYPE FT BASTIC

- MI WANT GYAL
4.MASICKA -
MI HAVE THE STYLE
5.KHAGO -
A NUH BOASY
6.JAHMIEL FT PROPA FADE - 
7
.AIDONIA -
ANYWEH YU SEE MI
8.LADY SAW -
BUN FI BUN
9.BEENIE MAN -
STAND FIRM
10.
D'ANGEL -
PRETTY BAD GAL
11.ELEPHANT MAN -
PON YUH TOE
12.DEABLO-
GYAL YUH CAN FUCK
13.SHAKA PO -
WHINE AND BUBBLE
14.MELPO MELLZ -
MELPO MELLZ – LET ME LIVE MY LIFE
1

5.MILLION STYLE -

BADMIND IS WATCHING OVER ME
16.BUGLE -

WHO ME

17.INTROLUDE-

VOICEMAIL

18.I-OCTANE -

FLY OVA BADMIND PPL

19.I-OCTANE FT BOUNTY KILLER -

BADMIND A PREE

20.CHAN DIZZY -

HYPOCRITE HAIL

21.MAVADO -

INVISIBLE

22.INTROLUDE -

VOICEMAIL

23.KHAGO -

ROAD DAWG

24.BEENIE MAN & FAMBO -

LETS MAKE A TOAST

25.MAVADO -

LIVE MY LIFE

26.POPCAAN -

PARTY NON STOP

27.VYBZ KARTEL -

PARTY VYBZ

28.SUPA HYPE FT MUNGA,CHI CHING -

SLAP WEH '

29.DEABLO -

JAH GUIDE(DUB)

30.STEIN -

WHEEL IT OFF(DUB)

31.KONSHENS -

FROM YU SEE MI

32.MAVADO -

BOX A MONEY

33.AIDONIA -

KUSH

34.VYBZ KARTEL -

WEED SMOKER

35.TOMMY LEE -

UNCLE DEMON

36.VYBZ KARTEL -

DADDY DEMON

37.VYBZ KARTEL -

BORN BAD

38.BOUNTY KILLER FT BLING DAWG -

RUN OUT

39.MAVADO -

DISRESPECT

40.AIDONIA -

FUNERAL

41.DEABLO -

GYAL DEM WANT

42.BENCIL -

ANYTIME DI RAIN A FALL

43.PATEXX -

BIG FOOT(DUB)

44.INTROLUDE -

VOICEMAL

45.ANDREA STYLISH -

SLOW WINE

46.AFLEAR -

DASH IT OUT

47.VERSHION -

BANANA 
48.VYBZ KARTEL -

WHINE FI MONEY
49.LADY SAW -

HEELS ON
50.VYBZ KARTEL

- FREAKY GYAL (PRT 3)
51.MAVADO -

FUCK GYAL
52.ZAMUNDA -

BUBBLE
53.VYBZ KARTEL -

EVA BLESS
54.CHAM -

STRIPPER POSE
55.CHAM -

LAWLESS
56.KALDO – TUFF CHAT

(DUB)
57.BOUNTY KILLER -

NO TALKING
58.INTROLUDE-

VOICEMAIL
59.MAVADO -

SPECIAL KINDA GYAL
60.MAVADO -

CARIBBEAN GIRL
61.WASP -

HOY LIKE A FYAH
62.CHRIS MARTIN -

NA NA NA
63.MELLOQUENCE -

GO FOR MINE(DUB)
64.CHRONIXX -

CURTAIN
65.VOICEMAIL -

CLAP IT
66.TIFA -

HOLD ON
67.BUSY SIGNAL -

POOLSIDE
68.KONSHENS FT DARRIO -

SIDUNG PON BUDDY
69.LADY SAW FT ELEPHANT MAN

– SIDDUNG PON IT
70.KALADO -

MAKE ME FEEL
71.SPICE -

CYAAN MANAGE IT
72.TANTO METRO & DEVONTE -

TUN IT UP LOUDER
73.MR LEXX -

NUH MORE THAN YUH 
74.FRISCO KID -

DAT MI LIKE
75.COLTON -

ICE CREAM MAN(DUB)
76.STYLIST FT VYBZ KARTEL -

R U READY
77.I-OCTANE -

BRACE AND BUBBLE GYAL
78.TOMMY LEE -

PUSSY MECHANIC
79.VYBZ KARTEL FT GAZA SLIM -

CELEBRATE
80.VYBZ KARTEL FT GAZA SLIM -

CAN'T DO WITH OUT ME
81.AIDONIA -

JOOK SO
82.KONSHENS -

ON YOUR FACE
83.TIFA -

SHOW ME THE BUBBLE
84.TOMMY LEE -

PARTY NON STOP
85.POPCAAN

- FOOD AFFI RUN
86.I-OCTANE -

MORE MONEY
87.INTROLUDE -

VOICEMAIL
88.AIDONIA -

TAN TUDDY
89.AIDONIA -

TIP PON YUH TOE
90.VYBZ KARTEL -

STREET VYBZ
91.RDX -

BROAD OUT
92.RDX -

JUMP
9

3.INTROLUDE -

ROAD RUNNER
94.DEABLO

-ROAD RUNNER(DUB)
real deal