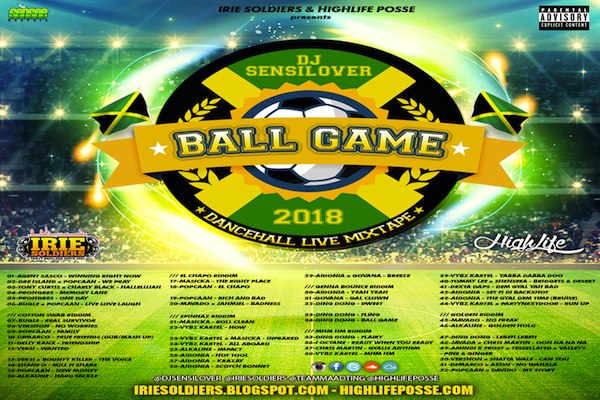 New year, new free dancehall mixtape boasting some of the biggest riddims, songs and Jamaican recording artists in dancehall music!
Let's start 2018 with a big dancehall kickout! Vibe with this new free to stream and download dancehall mix that will keep you company for more than an hour with the freshest tunes & riddims coming out from Jamaica, selected and live mixed by Dj Sensilover (Irie Soldiers / Highlife Posse) and titled "Ball Game!"
Sensi Lover selected the biggest tunes and riddims of 2017, packing the project with the latest sensations in dancehall music including mad new tunes from Popcaan, Proghres, Agent Sasco, Demarco, Delly Ranx, Masicka, Vybz Kartel, Alkaline, Aidonia, Tommy Lee. The mix is hot like fire and features some of biggest dancehall riddims of 2017 such as Cotton Swab Riddim, Mhm Hm Riddim, Genna Bounce Riddim, El Chapo Riddim, Spinnaz Riddim, Golden Riddim and a string of hot singles listen below.
Check the full track listing, stream and free download clicking on the SoundCloud player.
Tune in, it's a BALL GAME!
LISTEN TO BALL GAME – DANCEHALL LIVE MIXTAPE 2018 – DJSENSILOVER (IRIE SOLDIERS)
Dj Sensi Lover Ball Game Dancehall Mix Track Listing 01-AGENT SASCO – WINNING RIGHT NOW
02-DRE ISLAND x POPCAAN – WE PRAY
03-TONY CURTIS x CHARLY BLACK – HALLELUJAH
04-PROHGRES – MEMORY LANE
05-PROHGRES – ONE DAY
06-BUGLE x POPCAAN – LIVE LOVE LAUGH /// COTTON SWAB RIDDIM
07-BUGLE – REAL SURVIVOR
08-VERSHON – NO WORRIES
09-POPCAAN – FAMILY
10-DEMARCO – TRUE FRIENDS (DUB/MASH UP)
11-DELLY RANX – FRIENDSHIP
12-VERSI – WANTED 13-VERSI x BOUNTY KILLER – THE VOICE
14-SHANE O – MILL FI SHARE
15-POPCAAN – NEW MONEY
16-ALKALINE – HARD TACKLE /// EL CHAPO RIDDIM
17-MASICKA - THE RIGHT PLACE
18-POPCAAN – EL CHAPO 19-POPCAAN – RICH AND BAD
20-MAVADO x JAHMIEL – BADNESS /// SPINNAZ RIDDIM
21-MASICKA – ROLL CLEAN
22-VYBZ KARTEL – HOW 23-VYBZ KARTEL x MASICKA – INFRARED
24-VYBZ KARTEL – ALL ABOARD
25-ALKALINE – IMPACT
26-AIDONIA – HOT TOOL
27-AIDONIA – KRAZAY
28-AIDONIA – SCOTCH BONNET
29-AIDONIA x GOVANA – BREEZE /// GENNA BOUNCE RIDDIM
30-AIDONIA – YEAH YEAH
31-GOVANA – GAL CLOWN
32-DING DONG – DWEET 33-DING DONG – FLING
34-DING DONG – BALL GAME /// MHM HM RIDDIM
35-DING DONG – FLAIRY
36-I OCTANE – READY WHEN YOU READY
37-CHRIS MARTIN – GYALIS ANTHEM
38-VYBZ KARTEL – MHM HM 39-VYBZ KARTEL - YABBA DABBA DOO
40-TOMMY LEE x SHENSEEA – BRIDGETS & DESERT
41-DEXTA DAPS – DEM GYAL YAH BAD
42-AIDONIA – SET FI DI BACKSHOT
43-AIDONIA – THE GYAL DEM TIME (BRUISE)
44-VYBZ KARTEL x PARTYNEXTDOOR – RUN UP /// GOLDEN RIDDIM
45-MAVADO – NO FREAK
46-ALKALINE – GOLDEN HOLD 47-DING DONG – LEBEH LEBEH
48-JAVADA x CHRIS MARTIN – OOH NA NA NA
49-AMINDI K FROST x TESSELLATED x VALLEYZ – PINE & GINGER
50-VERSHON x SHATTA WALE – CAN YOU
51-DEMARCO x AKON - NO WAHALA
52-POPCAAN x DAVIDO – MY STORY
real deal