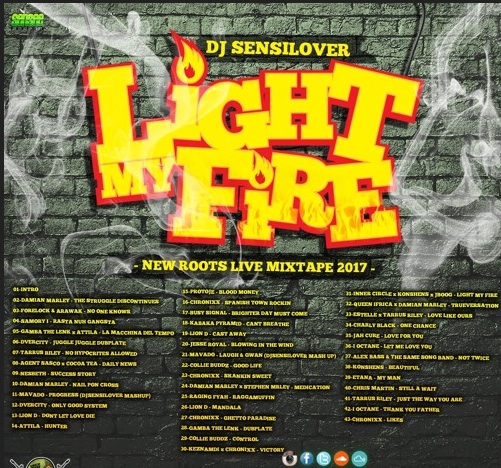 Vibe to a new free reggae mixtape titled Light My Fire and brought to you by Dj Sensi Lover from Irie Soldiers.
Featuring a vibrant and strictly live selection of the best reggae music released in the last months, including exclusive mashups and dub plates, from veteran to young Jamaican reggae artists, Light My Fire boast a massive selection of the dopest & newest reggae songs.
Stream or download for free Dj Sensi Lover Light My Fire Free reggae mixtape below clicking on the player or click the download buttons and check the track listing with all the artists names and songs names.
This is mix is pure fire, starts with a drop from legendary Marcia Griffith for the italian Sensi Lover, the mix goes on and on and will keep you company for more than an hour with strictly positive reggae vibes, featuring the biggest reggae tunes. Irie.
DWNLD DJ SENSILOVER LIGHT MY FIRE REGGAE MIX ONE TRACK
DWNLD DJ SENSILOVER LIGHT MY FIRE REGGAE MIX SPLIT MP3
Stream Dj SensiLover Light My Fire Reggae Mixtape 2017

DJ SENSI LOVER LIGHT MY FIRE REGGAE MIX TRACKLIST
01-INTRO
02-DAMIAN MARLEY – THE STRUGGLE DISCONTINUES
03-FORELOCK & ARAWAK – NO ONE KNOWS
04-SAMORY I – RASTA NUH GANGSTA
05-GAMBA THE LENK  ATTILA – LA MACCHINA DEL TEMPO
06-DVERCITY – JUGGLE JUGGLE DUBPLATE
07-TARRUS RILEY – NO HYPOCRITES ALLOWED
08-AGENT SASCO  COCOA TEA – DAILY NEWS
09-NESBETH – SUCCESS STORY
10-DAMIAN MARLEY – NAIL PON CROSS
11-MAVADO – PROGRESS (DJSENSILOVER MASHUP)
12-DVERCITY – ONLY GOOD SYSTEM
13-LION D – DONT LET LOVE DIE
14-ATTILA – HUNTER
15-PROTOJE – BLOOD MONEY
16-CHRONIXX – SPANISH TOWN ROCKIN
17-BUSY SIGNAL – BRIGHTER DAY MUST COME
18-KABAKA PYRAMID – CANT BREATHE
19-LION D – CAST AWAY
20-JESSE ROYAL – BLOWING IN THE WIND
21-MAVADO – LAUGH & GWAN (DJSENSILOVER MASH UP)
22-COLLIE BUDDZ – GOOD LIFE
23-CHRONIXX – SKANKIN SWEET
24-DAMIAN MARLEY  STEPHEN MARLEY – MEDICATION
25-RAGING FYAH – RAGGAMUFFIN
26-LION D – MANDALA
27-CHRONIXX – GHETTO PARADISE
28-GAMBA THE LENK – DUBPLATE
29-COLLIE BUDDZ – CONTROL
30-KEZNAMDI  CHRONIXX – VICTORY
31-INNER CIRCLE  KONSHENS  JBOOG – LIGHT MY FIRE
32-QUEEN IFRICA  DAMIAN MARLEY – TRUEVERSATION
33-ESTELLE  TARRUS RILEY – LOVE LIKE OURS
34-CHARLY BLACK – ONE CHANCE
35-JAH CURE – LOVE FOR YOU
36-I OCTANE – LET ME LOVE YOU
37-ALEX BASS & THE SAME SONG BAND – NOT TWICE
38-KONSHENS – BEAUTIFUL
39-ETANA – MY MAN
40-CHRIS MARTIN – STILL A WAIT
41-TARRUS RILEY – JUST THE WAY YOU ARE
42-I OCTANE – THANK YOU FATHER
43-CHRONIXX – LIKES
real deal