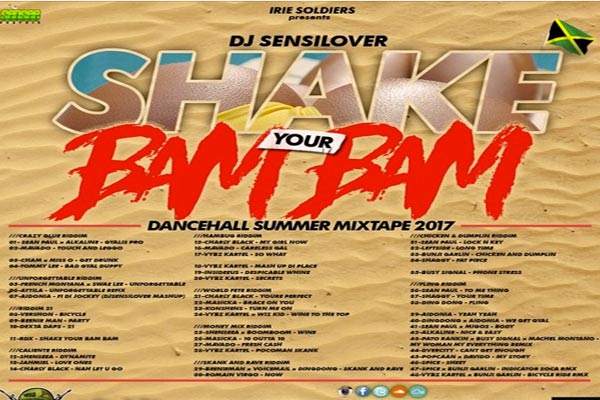 Get to SHAKE YOUR BAM BAM with Dj SensiLover and IrieSoldiers! It's the season!
Turn on your summer puttin pon speakas this hot  dancehall free mixtape featuring fresh tunes, riddims, remixes & mashups. Mixed and selected by the italian mixtapes machine: Dj Sensilover.
Lit up your summer with another great dancehall mixtape that celebrates the biggest summer hits in dancehall reggae music featuring the biggest hits to dance and sing along with, from Sean Paul & Alkaline latest collaboration, 
Vybz Kartel, Mavado, Popcaan, Tommy Lee Sparta, Konshens, Vershon,Shenseea Jahmiel and many others Top Jamaican artists in this dope mix to add to your collection!
Check the full track listing for Shake Your Bam Bam by DJ Sensi Lover and download link below.
STREAM – SHAKE YOUR BAM BAM – DANCEHALL SUMMER MIXTAPE 2017 – DJ SENSILOVER (IRIE SOLDIERS)

DWNLD DJSENSILOVER- SHAKE YOUR BAM BAM MP3
DWNLD DJ SENSILOVER – SHAKE YOUR BAM BAM – SPLITTED
SHAKE YOU R BAM BAM DANCEHALL MIXTAPE TRACKLIST
///CRAZY GLUE RIDDIM
01- SEAN PAUL x ALKALINE – GYALIS PRO
02-MAVADO - TOUCH AND LEGGO
03-CHAM x MISS O – GET DRUNK
04-TOMMY LEE – BAD GYAL DUPPY
///UNFORGETTABLE RIDDIM
05-FRENCH MONTANA x SWAE LEE – UNFORGETTABLE
06-ATTILA - UNFORGETTABLE REFIX
07-AIDONIA – FI DI JOCKEY (DJSENSILOVER MASHUP)
///RIDDIM 21
08-VERSHON – BICYCLE
09-BEENIE MAN – PARTY
10-DEXTA DAPS - 21
11-RDX – SHAKE YOUR BAM BAM
///CALIENTE RIDDIM
12-SHENSEEA – DYNAMITE
13-JAHMIEL – LOVE ONES
14-CHARLY BLACK – NAH LET U GO
///HAMBUG RIDDIM
15-CHARLY BLACK – MY GIRL NOW
16-MAVADO – CARELESS GAL
17-VYBZ KARTEL – SO WHAT
18-VYBZ KARTEL – MASH UP DI PLACE
19-INSIDEEUS – DESPICABLE WHINE
20-VYBZ KARTEL – SECRETS
///WORLD FETE RIDDIM
21-CHARLY BLACK – YOURE PERFECT
22-MASICKA – BRACE ON YOU
23-KONSHENS - TURN ME ON
24-VYBZ KARTEL x WIZ KID – WINE TO THE TOP
///MONEY MIX RIDDIM
25-SHENSEEA x BOOMBOOM – WINE
26-MASICKA – 10 OUTTA 10
27-MAVADO – FRESH CASH
28-VYBZ KARTEL – POCOMAN SKANK
///SKANK AND RAVE RIDDIM
29-BEENIEMAN x VOICEMAIL x DINGDONG – SKANK AND RAVE
30-ROMAIN VIRGO – NOW
///CHICKEN & DUMPLIN RIDDIM
31-SEAN PAUL – LOCK N KEY
32-LEFTSIDE – LONG TIME
33-BUNJI GARLIN - CHICKEN AND DUMPLIN
34-SHAGGY – FAT PIECE
35-BUSY SIGNAL – PHONE STRESS
///FLING RIDDIM
36-SEAN PAUL – TO ME THING
37-SHAGGY – YOUR TIME
38-DING DONG – FLING
39-AIDONIA – YEAH YEAH
40-DINGDONG x AIDONIA – WE GET GYAL
41-SEAN PAUL x MIGOS – BODY
42-ALKALINE – NICE & EASY
43-PATO RANKIN x BUSY SIGNAL x MACHEL MONTANO -
MY WOMAN MY EVERYTHING REMIX
44-DVERCITY – CANT GET ENOUGH
45-POPCAAN x DAVIDO – MY STORY
46-SPICE – SHEET
47-SPICE x BUNJI GARLIN – INDICATOR SOCA RMX
48-VYBZ KARTEL x BUNJI GARLIN – BICYCLE RIDE RMX
real deal