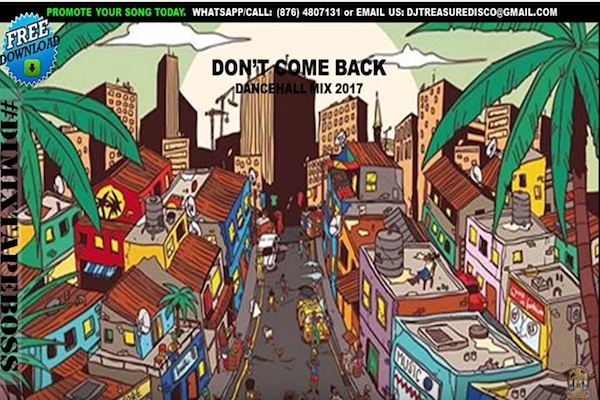 Stream or download below and fresh dancehall mix coming out of Jamaicaand featuring the latest songs from World Boss Vybz Kartel, Tommy Lee Sparta, Vershon, Bazza T, Ishawna, Alkaline, Aidonia and so on.
Boasting some of the newest dancehall songs from incarcerated dancehall star Vyz Kartel and a lot of Tommy Lee Sparta newest songs, Dj Treasure Don't Come Back dancehall Mix take its title from one of Kartel's latest smashing hit, listen to it here.
Dj Treasure Don't Come Back Free Dancehall Mix 2017 comes with full track listing with all the artists names and songs titled and is posted below, scroll down for free download button.
DON'T COME BACK DANCEHALL MIX | OCTOBER 2017 | VYBZ KARTEL

DWNLD DJ TREASURE DON'T COME BACK FREE DANCEHALL MIX 2017
Dj Treasure Don't Come Back Mix Track Listing
01 Tina Malek (TM) Productions – Intro
02 Vybz Kartel – Don't Come Back
03 Vershon X Shatta Wale – Can You
04 Vybz Kartel X Partynextdoor – Run Up Remix
05 Demarco – Party Nice Can't Done
06 Aidonia – Yeah Yeah
07 Govana – Gyal Clown
08 Ding Dong – Dweet
09 Ding Dong – Wul Up
10 Ding Dong – Yeng Yeng
11 Silver Birds Records – Rave Riddim
12 Vybz Kartel X Kim Kelly – Alive
13 Sol Weatherman – Whine
14 Shatta Wale – Inna Dancehall
15 Tommy Lee Sparta – Grim Rim Rave
16 BazraGod – Summer Time
17 Vybz Kartel X IShawna – Washer Dryer
18 Vybz Kartel – MHM HM
19 I Octane – Ready When You Ready
20 Ishawna – Walking Dead
21 Dre Blunt X Schemas – Pu$$y Principle
22 BazraGod – Boom Boom
23 Vybz Kartel – So Easy
24 Vybz Kartel – Luxury Doll
25 Bazza T – Slow Wine
26 Bazza T – Dream Land
27 Alkaline – My Love
28 CatEyes – Brighter Days
29 Prohgress – Memory Lane
30 Lanz – She Naa Leggo
31 Masicka – Murder
32 BazraGod – Mini 14
33 Tommy Lee Sparta – Not a Formula
34 Tommy Lee Sparta – Casualty
35 Rollie Fresh – Cyan Roll
36 Alkaline – Golden Hold
37 Mavado – No Freak
38 Tommy Lee Sparta – Otherwise
39 Aidonia – Fire
40 Vershon – Instant
41 Shane E – Kill Dem All
42 Popcaan – 1Guh
43 Vybz Kartel – Informer
real deal