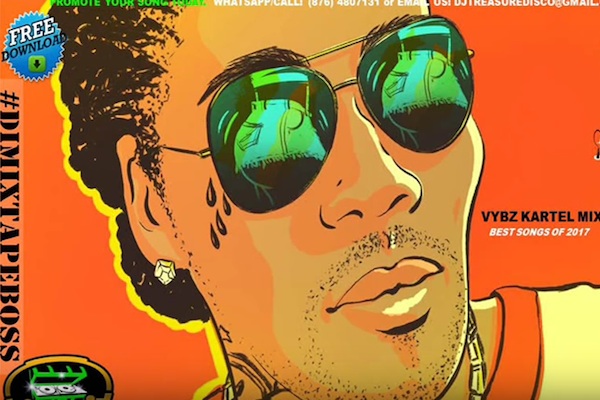 Stream or download a new free dancehall mixtape brought to you by Dj Treasure and titled Vybz Kartel Dancehall Mix 2018.
Featuring the best and most played and popular dancehall songs from the incarcerated Jamaican superstar, Dj Treasure new mix is explosive as Vybz Kartel's music.
Vybz Kartel, real name Adidja Azim Palmer, had a pretty prolific musical year in 2017, beside his incarceration, with music producers releasing hit songs on hit songs. Dj Treasure compiled this Kartel's free mix that will keep you company for more than 40 minutes, choosing the thirty biggest songs released by the incarcerated dancehall star during the whole past year.
With so many big hit songs coming out non stop during all 2017 this new Dj Treasure mix recaps Vybz Kartel's best songs and discography of 2017 and it's a must have for all Vybz Kartel's fans.
DWNLD VYBZ KARTEL DANCEHALL MIX 2018 DJ TREASURE CD
DWNLD VYBZ KARTEL DANCEHALL MIX 2018 DJ TREASURE MOBILE
STREAM VYBZ KARTEL DANCEHALL MIX 2018 (Best Songs of 2017) Clean/Radio/Edit @DJTREASURE
DJ TREASURE VYBZ KARTEL DANCEHALL MIX 2018 TRACKLIST:
01 DJ Treasure Intro feat Zee K
02 VYBZ KARTEL Yabba Dabba Doo
03 VYBZ KARTEL Christmas Fck
04 VYBZ KARTEL All Aboard
05 VYBZ KARTEL Hold It
06 VYBZ KARTEL Dont Come Back
07 VYBZ KARTEL Pregnant
08 VYBZ KARTEL Wine To Di Top feat WizKid
09 VYBZ KARTEL Love It
10 VYBZ KARTEL Chance feat Sean Kingston
11 VYBZ KARTEL So What (Love Everthing)
12 VYBZ KARTEL Washer Dryer feat Ishawna
13 VYBZ KARTEL Run Up Remix feat PartyNextDoor
14 VYBZ KARTEL Thank You Mama
15 VYBZ KARTEL Poco Man Skank
16 VYBZ KARTEL How
17 VYBZ KARTEL Highest Level
18 VYBZ KARTEL Closed Casket
19 VYBZ KARTEL InfraRed feat Masicka
20 VYBZ KARTEL Mhm Hm
21 VYBZ KARTEL Portmore City to Uptown
22 VYBZ KARTEL Girlfriend feat Busta Rhymes & Tory Lanez
23 VYBZ KARTEL Mash Up Di Place
24 VYBZ KARTEL Luxury Doll
25 VYBZ KARTEL So Easy
26 VYBZ KARTEL Born Again Virgin
27 VYBZ KARTEL Fight Slimatic
28 VYBZ KARTEL Watch Over Us
29 VYBZ KARTEL Cool and Deadly feat Ky Mani Marley
30 VYBZ KARTEL Kremlin
real deal