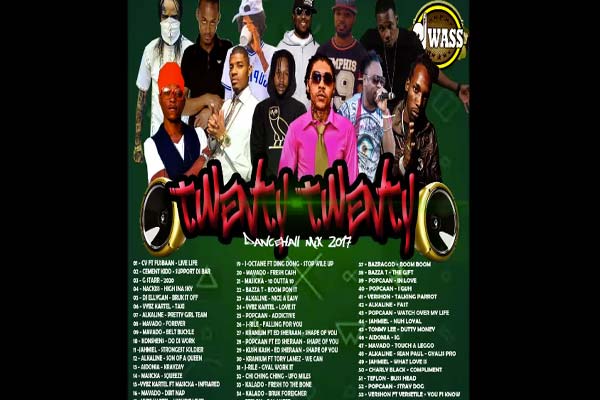 Vibe to a new free dancehall mixtape brought to yuo by Dj Wass & featuring simply the top songs of right now, titled Fresh & Clean Dancehall Mix 2017.
Featuring top Jamaican recording artists like  World Boss Vybz Kartel, Guly God Mavado, Vendetta's deejay Alkaline, Unruly King Popcaan, Fussban and many many more , Dj Wass Dancehall Mix 2017 is ranking up a lot of replays right now.
Featuring all the latest dancehall songs in heavy rotation from Top Jamaican recording artists the mix is available in free mp3 format.
Check out the full track listing for Dj Wass Dancehall Mixtape 2017 and download the mix for free or stream it below.
DWNLD DJ WASS DANCEHALL MIX MAY 2017
DJ WASS CLEAN & FRESH MAY DANCEHALL MIX 2017
Dj Wass Dancehall Mix 2017 Vybz Kartel, Mavado, Alkaline – May 2017
Dj Wass Dancehall Mix 2017 Track Listing
01 – CV LNJ FT FUSBAAN LNJ - LIVE LIFE
02 – CEMENT KIDD - SUPPORT DI BAR
03 – G STARR - 2020
04 – NACKISS - HIGH INA SKY
05 – DJ ELLY GAN - BRUK IT OFF
06 – VYBZ KARTEL - TAXI
07 – ALKALINE - PRETTY GIRL TEAM
08 – MAVADO - FOREVER
09 – MAVADO - BELT BUCKLE
10 – KONSHENS - DO DI WORK
11 – JAHMIEL - STRONGEST SOLDIER
12 – ALKALINE - SON OF A QUEEN
13 – AIDONIA - KRAYZAY
14 – MASICKA - SQUEEZE (AIDONIA DISS)
15 – VYBZ KARTEL FT MASICKA - INFRARED
16 – MAVADO - DIRT NAP
17 – VYBZ KARTEL - HIGHEST LEVEL
18 – VYBZ KARTEL - POCO MAN SKANK
19 – I-OCTANE FT DING DONG - STOP WILE UP
20 – MAVADO - FRESH CASH
21 – MASICKA - 10 OUTTA 10
22 – BAZZA T - BOOM PON IT
23 – ALKALINE - NICE & EASY
24 – VYBZ KARTEL - LOVE IT
25 – POPCAAN - ADDICTIVE
26 – J-RILE - FALLING FOR YOU
27 – KRANIUM FT ED SHERAAN - SHAPE OF YOU (REMIX)
28 – POPCAAN FT ED SHERAAN - SHAPE OF YOU (REMIX)
29 – KUSH KASH FT ED SHERAAN – SHAPE OF YOU (REMIX)
30 – KRANIUM FT TORY LANEZ - WE CAN
31 – J-RILE - GYA; WORK IT
32 – CHI CHING CHING - UFO MILES
33 – KALADO - FRESH TO THE BONE
34 – KALADO – BRUK FOREIGNER
35 – TEFLON - GAL I NEED
36 – VERSHON - MAKE YOU WET
37 – BAZRAGOD - BOOM BOOM
38 – BAZZA T - THE GIFT
39 – POPCAAN - IN LOVE
40 – POPCAAN - 1 GUH
41 – VERSHON - TALKING PARROT (MAVADO & JAHMIEL DISS)
42 – ALKALINE - FAST
43 – POPCAAN - WATCH OVER MY LIFE
44 – JAHMIEL - NUH LOYAL
45 – TOMMY LEE SPARTA - DUTTY MONEY
46 – AIDONIA - IG
47 – MAVADO TOUCH & LEGGO
48 – ALKALINE FT SEAN PAUL - GYALIS PRO
49 – JAHMIEL - WHAT IS LOVE
50 – CHARLY BLACK - COMPLIMENT
51 – TEFLON - BUSS HEAD (DUB)
52 – POPCAAN - STRAY DOG (ALKALINE DISS)
53 – VERSHON FT VERSETILE - YOU FI KNOW
54 – AIDONIA - WEH TALKING AGO
55 – TOMMY LEE SPARTA – SAVAGE LIFE
real deal