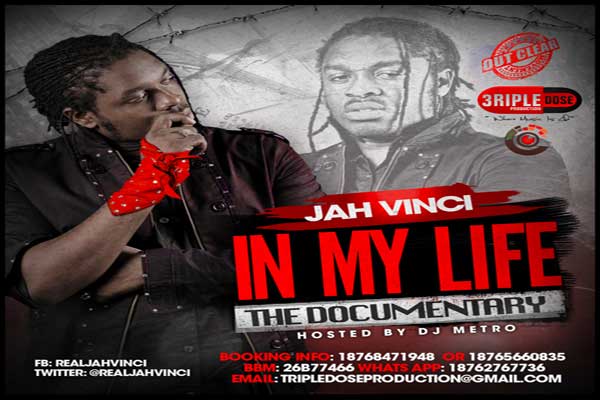 Jamaican artist Jah Vinci released his mixtape titled - Jah Vinci My Life The Documentary –  last month, November 2013.
The -In My Life- Mixtape from the formerGaza artist is hosted by Dj Metro and includes some of the best tunes past and present from the talented artist.
Stream / download  &  check the full track listing posted below.
 JAH VINCI "IN MY LIFE" (THE DOCUMENTARY) MIXTAPE HOSTED BY DJ METRO
DWNLD JAH VINCI IN MY LIFE MIXTAPE
JAH VINCI  "IN MY LIFE THE DOCUMENTARY" MIXTAPE TRACK LISTING
 1- JAH VINCI  -NAAH SUFFER TOO LONG [OPENING TRACK] 2- JAH VINCI  -INTERVIEW STARTS WITH LEE LEE AND JAH VINCI 3 -JAH VINCI - MAMA LOVE [DUB] 4 -JAH VINCI  -MAMA DON'T CRY 5- JAH VINCI  -BACK TO INTERVIEW WITH LEE LEE [SONG CONTINUES TO PLAY IN BACKGROUND] 6- JAH VINCI - NO LOVE 7- JAH VINCI  -WICKED HEART 8- JAH VINCI  -NEVER TOO LATE [DUB] 9- BACK TO INTERVIEW WITH LEE LEE [SONG CONTINUES TO PLAY IN BACKGROUND] 10- JAH VINCI  - I SHALL RISE FT PROPALLY 11-JAH VINCI  -BACK TO INTERVIEW WITH LEE LEE [RIDDIM PLAY S IN BACKGROUND] 12- JAH VINCI  HOW CAN LOVE 13 -JAH VINCI - SHOW ME 14- JAH VINCI - COME FROM FAR 15 -JAH VINCI  - REAL LIFE 16-JAH VINCI  - LOVE A BOIL UP[
17 -JAH VINCI  -DON'T GO NU WEH
18- JAH VINCI - REAL WOMAN
19 -JAH VINCI  -BACK TO INTERVIEW WITH LEE LEE [CALLER CALLS IN]
20-JAH VINCI - OH JAH JAH [DUB]
21- JAH VINCI - OH WHY
22 -BACK TO INTERVIEW WITH LEE LEE [RIDDIM PLAYS IN BACKGROUND]
23- JAH VINCI - ALL WHEN
24- JAH VINCI  -JAH NEVER
25-JAH VINCI - ALL I NEED
26-JAH VINCI  -I FEEL LIKE GIVING UP
27- BACK TO INTERVIEW WITH LEE LEE [SONG CONTINUES TO PLAY IN BACKGROUND]
28- IJAH VINCI – IN MY LIFE [DUB]
29-JAH VINCI  -NICE AGAIN
30-JAH VINCI  -GHETTO YOUTHS
31- JAH VINCI - CLOSING INTERVIEW [RAP UP SESSION]
32- JAH VINCI - TOWER OF STRENGHT
33 -JAH VINCI - OUTRO – ZJ DYMOND [ZIP FM 
real deal