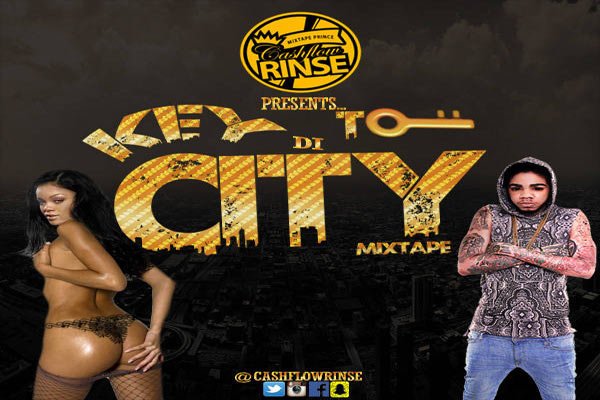 Enjoy a new super fresh blend of the latest dancehall hip hop hit songs coming out straight of Jamaica for April 2016
Brought to you by famed Jamaican DJ CashFlow Rinse and titled Key To The City, echoing Alkaline's hit single "City" from his New Level Unlocked album, that is currently topping in itunes reggae charts, this new free mixtape is available for free streaming/download in mp3 format and features the biggest songs in dancehall and hip hop.
KEY TO THE CITY MIXTAPE….HIP POP X DANCEHALL FEATURED THE CURRENT HITS SONG LIKE FROM ARTISTS SUCH AS RIHANNA,DRAKE AND FOR THE DANCEHALL SCENE VYBZ KARTEL, POPCAAN, ALKALINE,JAHMIEL,MAVADO ETC
WHILE THE STREAMING VERSION OF THE FREE HIP HOP DANCEHALL MIX HAS BEEN REMOVED BY CASH FLOW RINSE SOUND CLOUD THE FREE DOWNLOAD LINKS POSTED BELOW FOR DJ CASH FLOW RINSE – KEY TO THE CITY – DANCEHALL MIXTAPE STILL WORK! WHICH MEANS YOU CAN STILL STREAM THE MIX ONCE YOU DOWNLOAD IT ON YOUR DESKTOP COMPUTER OR MOBILE DEVICE.
DJ Cash Flow Rinse is a veteran Jamaican Reggae Dancehall disk jock and music producer, that already delivered legendary mixtapes and reggae dancehall fans all over the world are familiar with his name and his mixes. But if you don't know him yet, to get a glimpse of what you getting, play below his latest mixtape for 2016, called Dancehall Street Mixtape featuring the latest dancehall reggae hits and riddims that took 2016.
FEATURING DEMARCO, VYBZ KARTEL, ALKALINE, POPCAAN, MAVADO, AND MORE
STREAM DANCEHALL STREETS MIXTAPE MIXED BY CASHFLOW RINSE

DOWNLOAD KEY TO THE CITY MIXTAPE SINGLE TRACK

: bit.ly/1MWvJ0D
DOWNLOAD KEY TO THE CITY MIXTAPE CD/TRACK VERSION

:

bit.ly/1V0gdE6
DOWNLOAD KEY TO THE CITY [DANCEHALL HIP HOP MIXTAPE] MIXED BY CASHFLOW RINSE
KEY TO THE CITY MIXTAPE TRACK LISTING
CLICK HERE FOR TRACKLIST
1.KEY TO THE CITY INTRO – MAESTRO DON
2.DRAKE FT POPCAAN – CONTROLLA
3.RIHANNA – KISS IT BETTER
4.CHRIS BROWN – SEX YOU BACK TO SLEEP
5.KALADO FT VYBZ KARTEL – RINSE REMIX
6.RIHANNA FT DRAKE – WORK
7.DELUS – BAD UP THE FUCK (DUB REMIX)
8.SEAN KINGSTON – ONE AWAY
9.NELLY FT JERMIAH – FIX IT
10.CHRIS MARTIN - UNDER THE INFLUENCE (RINSE REMIX)
11.LINCOLN FT DEJOUR – UR CHICK
12.CHRIS BROWN FT FUTURE – U DID IT
13.ACE HOOD FT DOLLA SIGN – HOW KNOW I FEEL
14.BRYSON TILLER - DONT
15.BRYSON TILLER – SORRY NOT SORRY
16.QUADDA DON – RINSE FREESTYLE
17.J COLE – NO ROLE MODEL
18.SELENA GOMEZ – SAME OLD LOVE
19.JASON DERULO FT JENNIFER – TRY ME
20.Z FT FETTY WAP – NOBODYS BETTER
21.DOLLA SIGN FT ILOVEMAKONNEN – WHY D YOU CALL
22.JUSTIN BIEBER - SORRY
23.KRANIUM - SORRY REFIX
24.ALOVICH – NUH PUNANY
25.IGGY AZALEA – TEAM
26.FAMBO – BLOODCLAAT SONG
27.LETHAL BIZZLE FT DISTORTION – FESTER SKANK
28.DON ANDRE – TOM CRUISE (RINSE DUB)
29.DING DONG – WUL UP
30.CHI CHI CHING – ROAST OR FRY
31.POPCAAN – WICKED WICKED
32.VYBZ KARTEL – HOUSE A BUN DUNG
33.INTERLUDE
34.DJ BRAVO – CHAMPION
35.SAVAGE - CULU CULU
36.RAZOR B – BRUK FI BACK (RINSE DUB)
37.KONSHENS – BRUK OFF MI COCK
38.VYBZ KARTEL - BICYCLE RIDE
39.VYBZ KARTEL – MOVE YUH HAND
40.POPCAAN – TIGHT PUSSY
41.VERSHON – TIE MI
42.VYBZ KARTEL – I'LL TAKE YOU THERE
43.ALKALINE – MY SIDE OF THE STORY


44.KAPELLA – IN MY LIFE
45.BRYKA – SHALL N I WILL (RINSE DUB)
46.MASICKA – EVERYTHING ME WANT
47.SHOWTIME – LIVE MY LIFE (RINSE DUB)
48.JAHMIEL – WHERE WERE U
49.MAVADO – BIG LEAGUE
50.INTERLUDE
51.ALKALINE – CITY
52.ALKALINE – WAIT
53.JAHMIEL – GREAT MAN
54.ALKALINE – TOLD YOU I WAS RIGHT
55.ALKALINE – TOM TAM
56.UNKNOWN – SHALLOW GRAVE
57.POPCAAN – KILL BADMIND
58.CHI CHI CHING – ROAD ROAST
60.ALKLAINE – COMPANY
61.VYBZ KARTEL – MILE HIGH CLUB
62.POPCAAN – FEEL GOOD
63.SPOOKIE – HURT IT UP (RINSE DUB)
64.DAINE BLAZE – ANGEL VAGINA
65.VYBZ KARTEL – BET MI MONEY
66.VYBZ KARTEL – 3AM
67.DEXTA DAPS – F U
68.DEXTA DAPS - CHINESE JORDAN
69.MAVADO – MY LOVE
70.MAVADO – BUMPA GAL
71.ALKALINE – ONE MORE TIME
72.DONAI SINGLETON – OOOH LA AYY (RINSE DUB)
73.BENCIL – WHO GOD BLESS (RINSE DUB)
74.MAVADO – PROGRESS
75.ALKLAINE – CONQUER THE WORLD
76.JAHMIEL – PLASM 91
77.MAESTRO DON – REAL THUGS
78.VERSHON – WHERE IM FROM

real deal