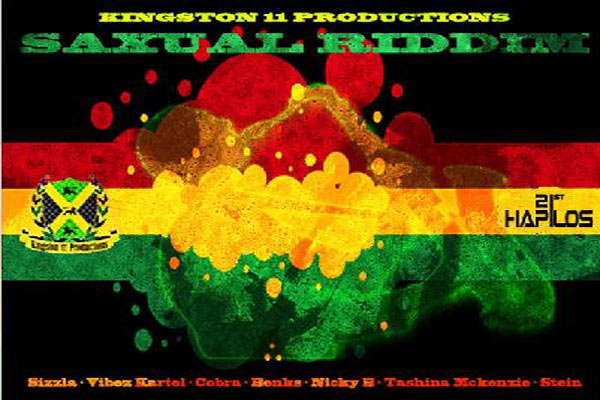 Kingston 11 Productions Presents The "Saxual Riddim", which includes Vybz Kartel's new tune "Set It" and more big Jamaican artists voicing on it.
Saxual Riddim was recorded a while back but just dropped fully re-mastered this month and includes songs from Top Jamaican Dancehall Artists like Vybz Kartel, Sizzla, Mad Cobra, Stein, Nicky B, Benks and Tashina McKenzie.
Saxual Riddim is currently available for digital purchase on i-Tunes amongst other music distribution platforms clicking on the banner in this page. Check the track listing & the promo mix posted below.
DWNLD SAXUAL RIDDIM FULL PROMO
STREAM SAXUAL RIDDIM PROMO MIX 2013
SAXUAL RIDDIM TRACK LISTING 
01 – BENKS –

TAKE IT OVER


02 – MAD COBRA –

EVERYDAY


03 – NICKY B –

CHUCK OFF (RAW)


04 – NICKY B –

CHUCK OFF (RADIO)


05 – SIZZLA –

THEY DON'T KNOW (RAW)


06 – SIZZLA –

THEY DON'T KNOW (RADIO)


07 – STEIN –

FRESH (RAW)


08 – STEIN –

FRESH (RADIO)


09 – TASHINA MCKENZIE –

THE INTRO


10 – VYBZ KARTEL –

SET IT
11 – KINGSTON 11 PRODUCTIONS –

SAXUAL RIDDIM VERSION
real deal