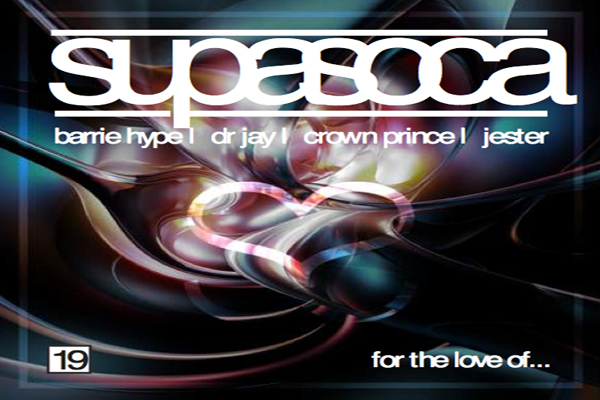 style="display:inline-block;width:728px;height:90px"
data-ad-client="ca-pub-5109320371512143"
data-ad-slot="1158796917">

The only  SOCA MIXTAPE you'll find @ missgaza.com  is SUPA SOCA WITH DJ BARRIE HYPE DR JAY CROWN PRINCE & JESTER.
WHY SUPA SOCA THEN!? …FOR THE LOVE! BECAUSE THEIR ISH IS THE TOPPING ISH AND IT'S ALSO A YEARLY CULTURAL APPOINTMENT NOT TO MISS TO EXPLORE AND  TO KNOW BETTER THE SOCA CULTURE.
STREAM – PLAY – SHARE FOR THE LOVE – BARRIE HYPE DR JAY CROWN PRINCE JESTER
Blasting the latest topping hits and artists in SOCA Music, stream Supa Soca 19 mixtape 2013 below
FOR THE LOVE – BARRIE HYPE DR JAY CROWN PRINCE JESTER TRACKLISTING
Intro

5Star Akil -

Partier (Ryan Sayeed Remix)

Konshens -

Boost Har Up (CP Supa Soca Remix)

Denise Belfon -

Wining Queen (Jester Supa Soca Remix)

Patrice Roberts -

A Little Wine (CP Supa Soca Remix)

Teddyson John -

Land Of Wine (CP Remix)

Bunji Garlin -

Differentology (Jester Remix)

Kes The Band

– Come For Dat (Crown Prince Remix)

Swappi -

Bare Wine

Super Jigga TC -

Do Yuh Thing (CP Remix)

Machel Montano -

The Fog

Machel Montano -

The Fog (Doc Jones Trap Remix)

Machel Montano -

Don't Mind

Kerwin Dubois -

Backazz (Jester Harlem Shake Remix)

Kes The Band & Kerwin Dubois

-

Disgustin

Red Eye Crew & JFK Bros. -

Keep Wining

Super Blue -

Fantastic Friday (Supa Soca Edition)

Machel Montano -

Witch Doctor (Road Mix)

Swappi -

Cha-Os

Fayann Lyons -

De Stage Open (Doc & Jes Road Mix)

Bunji Garlin -

Journey Continues

Kerwin Dubois -

Yuh Role

Machel Montano -

Energy High

Sesame Street Float Mash -

Up

Machel Montano -

Float (Precision Road Mix)

Kerwin Dubois -

Soca Child 
Bunji Garlin -

Hard Wine
Konshens -

Fete
Kes The Band -

I Ok
Chucky -

Single
Benjai -

Feter
Patrice Roberts -

Permission Granted
Machel Montano -

Life Of The Party
DJ Power ft. Vybz Kartel -

Make Up (Doc & Jes Remix)
Swedish House Mafia -

Don't You Worry Child (Edit)
Machel Montano vs. SHM -

Don't Worry She Ready (Jester Mash-Up)
Shal Marshall & Super Jigga TC -

We Limin
Kerwin Dubois -

Fete Of The Year (Jester Supa Soca Remix)
Cassi -

Whistle & Horn
Olatunji -

Wah Do
Bunji Garlin -

To D Future
Blaxx -

Leh Go
Machel Montano -

No Lie (MMHD vs

Will.I.Am

Jes SS19 Bootleg)
Machel Montano & Kerwin Dubois -

Possessed
Bunji Garlin -

Savage
Teddyson John -

Take Over (Supa Soca Exclusive
real deal