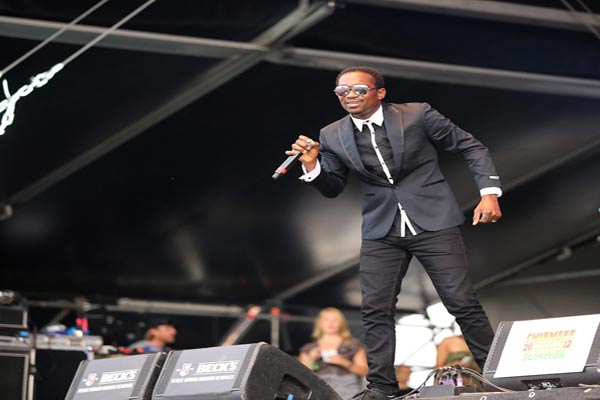 Busy Signal

continues to be one of the most popular dancehall artists in the world, but apparently he still faces troubles in the United States. Whether it's serving jail time, playing a concert, or just finding radio play, the U.S. hasn't been kind to the contemporary dancehall icon.
Despite his struggles, Busy Signal has still had a productive year with a new eight-track EP and plenty new songs.
The artist's 2012 arrest was well documented when he was captured for alleged narcotics charges in Minnesota that dated back to 2002. The Jamaican singer, born Glendale Gordon, only served 60 days of his six month sentence and immediately got back on his grind with fresh new music and even more tours. His 2012 album, Reggae Music Again, was called one of the best albums of 2012 by the BBC, and represented a dramatic shift in his style.
But it seems that the United States continues to bring Busy Signal nothing but problems. He's never found the same level of popularity in the U.S. that he has in Jamaica, Europe and Africa, and a recent performance shows that he still doesn't get the respect he deserves in the States. A recent performance at the annual Groovin' In the Park Festival held in Queens, New York was cut short, disappointing thousands of fans in the city. No reason was given for the interruption, though rumors suggested there were police concerns about a time factor.
The late June 2017 performance was Busy Signal's first time playing in New York and he was called "the best of the reggae acts" at the show despite its issues. There are currently no reports on when he might return to the U.S. for another concert.
New York wasn't the first time the dancehall legend has tried to appeal to American audiences. He previously appeared on the Reggae's Gone Country compilation by VP Records, where he performed an impressive cover of Kenny Rogers' classic country song, "The Gambler." The original 1978 song was a huge hit for Rogers and is probably his best known song today.
"The Gambler" explained poker etiquette to an entire generation of Americans and continues to be one of the most popular gambling songs of all time. Knowing when to hold them, and when to fold them, can be complicated but people who play these games still hear those lyrics and seek out guides explaining how poker hands are ranked.
That way they can follow the advice of Kenny Rogers (and now Busy Signal) the next time they play. The song displays Busy Signal's surprising vocal range and versatility at handling a number of musical styles, but also his grasp on some classic American themes.


WATCH BUSY SIGNAL THE GAMBLER OFFICIAL MUSIC VIDEO
Not one to be discouraged by setbacks, Busy Signal continues to have a strong 2017,is own fire take on the 6.3 riddim, "Go Again." He also released an official video for his lyrical track, "The Reasoning" at the end of May.
WATCH BUSY SIGNAL THE REASONING OFFICIAL MUSIC VIDEO
Busy Signal's latest EP, Fresh From Yaad, is a return to the classic reggae sounds that made Reggae Music Again such a hit, proving that he is one of the most diverse artists in the genre, not content to cash in on current trends. The United States might be able to get him off the stage, but they'll never be able to hold him down.
LISTEN TO BUSY SIGNAL FRESH FROM YAAAD
real deal