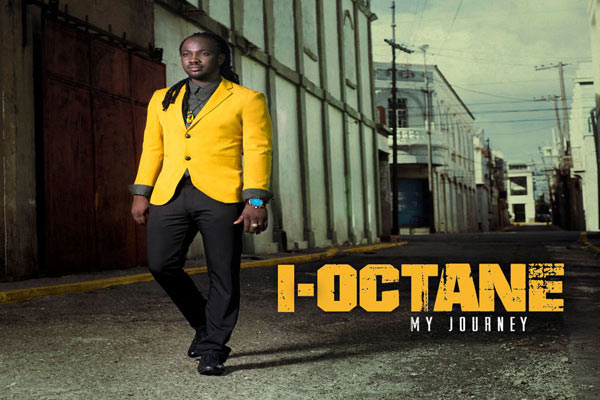 I-Octane, one of the most positive, genuine, talented and loved Jamaican new reggae/ dancehall artist, finally reveals the track list and launch details for his highly-anticipated upcoming album "My Journey", that will be available worldwide in stores and online on March 4, 2014 from DJ Frass/Tad's Record.
Jamican reggae dancehall artist I-Octane, real name Byiome Muir, was born in Clarendon,Jamaica. He has been carving his niche in reggae music since hitting the scene more than 5 years ago.A collaborative effort with his long-time friend and producerAndre "DJ Frass" Gordon, My Journey is a 16-track masterpiece that delves inside the soul and sound of this prolific artist, whose innate talents, conscious lyrical offerings and high-energy performances remain unparalleled.
WATCH I-OCTANE LOVE YOU LIKE I DO -OFFICIAL MUSIC VIDEO
"I want this album to help people to realize that we all have more in common than we are different," reveals I-Octane.
"We all go through the same types of things and experience love, joy, pain and suffering in our own ways. I hope that once people realize this, it will be easier to see each other as brothers and sisters and to genuinely love each other."
I-Octane's album "My Journey" stays true to the artist signature sound and lives up to its name as all tracks are penned by the multi-faceted entertainer, with a few singles co-written by producer DJ Frass.
The first single, "Love You Like I Do," has been receiving massive fanfare and radio play, at home and on reggae platforms worldwide. A beautifully crafted, vintage-styled video was also released and is currently in steady rotation on television channels. The ambitious album also features reggae stars Gentleman on "It's Alright" and Ky-Mani Marley on "A Yah Wi Deh," while Jamaican songstress Alaine takes a turn on the inspirational duet, "Lighters Up."
#I-OCTANE WORK BEHIND THE SCENSE WITH I-COTANE FOR THE COVER OF HIS NEW ALBUM



"The Almighty has allowed certain things to happen to me so that I can learn, and then others can take from my experiences and apply those lessons to their own lives," discloses I-Octane. "The music is just my vehicle of passing on my message. That is what reggae music is all about – spreading messages about love and life to help and uplift our brothers and sisters."
The entire album was produced by reggae and dancehall hit-maker DJ Frass, with whom Jamaican imprint Tad's Record teams up to deliver I-Octane's latest work of love to the masses. "
His musical journey is worth distributing," states Tad Dawkins, President of Tad's Record. "He is a youthful and refreshing sound in reggae, and his ability to transcend that without controversy into dancehall is deserving of high accolades. Like his name suggests, I-Octane is a high flame in the reggae/dancehall industry and we are privileged to be working with him and DJ Frass on this great project."
The album release event is set to take place in Kingston, Jamaica on March 6 at Chris Gayle's Triple Century Sports Bar (69 Knutsford Boulevard, New Kingston, Jamaica). Hosted by radio personality Big A from Jamaica's top radio station Irie-FM, the program will run from 7PM to midnight and will feature I-Octane introducing the album to media and fans, followed by a full performance.
Numerous local and Caribbean media outlets will be in attendance, along with mainstream music's most acclaimed trade publication Billboard Magazine, which will be journeying to Jamaica to cover the exciting new release from this reggae music ambassador.
I-Octane recently won two top prizes at Jamaica's Youth View Awards (held on February 1, 2014 in Kingston), where he nabbed Favorite Local Music Video for "Happy Time" and Favorite Music Collaboration of the Year for"It's a Celebration," featuring Konshens, Chris Martin and Ding Dong. He is now making the rounds on the international circuit, touring and introducing his new album to audiences far and wide, as he takes the entire world on his journey. He deserves it he works hard and kept delivering the most upfliting tunes. 
I-OCTANE UPCOMING ALBUM "MY JOURNEY" TRACK LIST:
1.  I-OCTANE - 

Time Will Come


2. I-OCTANE  - 

Million Miles Away


3. I-OCTANE  - 

Stepping in The Name of Love


4. I-OCTANE - 

Babylon


5. I-OCTANE - 

It's Alright Featuring Gentleman


6. I-OCTANE - 

Love You Like I Do


7. I-OCTANE –

I Will be There


8 .I-OCTANE - 

Mama


9. I-OCTANE - 

Pressure


10.I-OCTANE - 

Jah Jah Warrior


11. I-OCTANE -

 A Yah Wi Deh Featuring Ky-Mani Marley


12.I-OCTANE -

Lighters Up Featuring Alaine


13.I-OCTANE - 

My Story


14.I-OCTANE - 

Blood A Go Run


15.I-OCTANE- 

Jah Jah Mission


16.I-OCTANE - 

Burn It
real deal