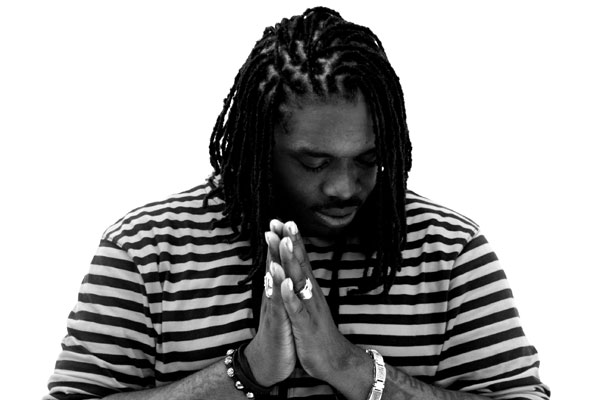 Former Jamaican Gaza/Pormore Empire artist and now Triple Dose recording artist Jah Vinci, talked about his upcoming album "Ghetto Born" that will include 14 tracks that Jah Vinci himself describes as a reggae/cross over project where the artist is happy to broadcast once again his versatility.
Jah Vinci share he has a new management team and explains  - in the short interview posted below – that he's been busy and he just went back to Jamaica after being in Africa and will head back leaving shortly again to Africa.
Jah Vinci delivered a brilliant recent concert in Ghana, where he performed at All Star Live Series, the 14th staging held at the Accra Sports Stadium,Saturday, March 8 that  saw the Watch Yuh Friends singer attracting more than 20,000 fans in the Ghanaian capital as part of their 57th Independence celebration.
It must have been there that Ghana's biggest dancehall act, Stonebwoy, teamed up with Jah Vinci for the latest single  'Happiness' with cameos from Beenie Man & more dancehall artists.
Jah Vinci loved Africa so much he 's gong back again and he says:

"I had a great time in Africa; the trip was a pleasant experience that reaffirmed the fact that good music has no boundaries. I want to thank everyone that came out and showed support and just look for great things from Jah Vinci in 2014."
Back home in his native Jamaica, dancehall reggae star Jah Vinci is in the recording studio working assiduously on his upcoming album, while promoting his latest singles.
Samini and Popcaan had also cameo appearances in the music video. He also explained that the is learning the business side of things in regards to music.
Watch Jah Vinci's interview posted below and catch up with some of

Jah Vinci

 latest singles for 2014 while waiting for  his first Album "Ghetto Born".
WATCH JAH VINCI LATEST INTERVIEW MAY 2014



JAH VINCI – NOBODY KNOWS -WHERE THE ANGELS GO



WATCH JAH VINCI – MY LOVE – BLOCK PARTY RIDDIM – OFFICIAL MUSIC VIDEO- ADDE PROD.



WATCH STONEBWOY   FEAT JAH VINCI - HAPPINESS – OFFICIAL MUSIC VIDEO

real deal