Rebel Salute the legendary Jamaican Festival this year reached  the 20th edition.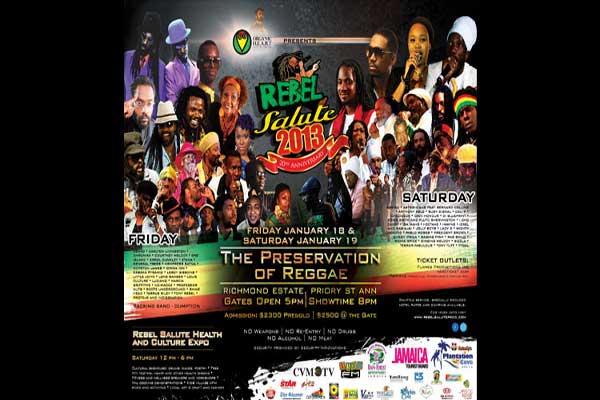 Watch some of the best acts and performances from this year edition of  Rebel Salute, that featured an amazing line up of artists and incredible live Reggae Music with performances from some of the most talented Jamaican artists.
SNAPSHOTS OF REBEL SALUTE 2013

In celebration of the 20th anniversary of Rebel Salute, the legendary Reggae stage dedicated to Live Reggae Music was relocated closer to Portland.
Check the line up of this year edition and some of the live performances that took place during the two day Reggae Festival.
Live performances from Sizzla Kalonjii, Queen Ifrica, Tony Rebel, Busy Signal, Luciano, Tarrus Riley,General Trees, I Wayne, Richie Spice , Etana, I-Octane, Marcia Griffith, Cali P, Shinehead, Iba MaHr, Tydal,Kabaka Pyramid, Chronixx, Protoje Indiggnation and many others.
WATCH I-OCTANE  LIVE PERFORMANCE @ REBEL SALUTE 2013

WATCH MARCIA GRIFFITH, SHINEHEAD, PROFESSOR NUTS, SKY JUICE LIVE PERFORMANCES AT REBEL SALUTE 2013

WATCH CHRONIXX LIVE PERFORMANCE @ REBEL SALUTE 2013


WATCH ETANA LIVE PERFORMANCE @ REBEL SALUTE 2013


WATCH SIZZLA KALONJI PERFORMANCE AT REBEL SALUTE 2013


real deal