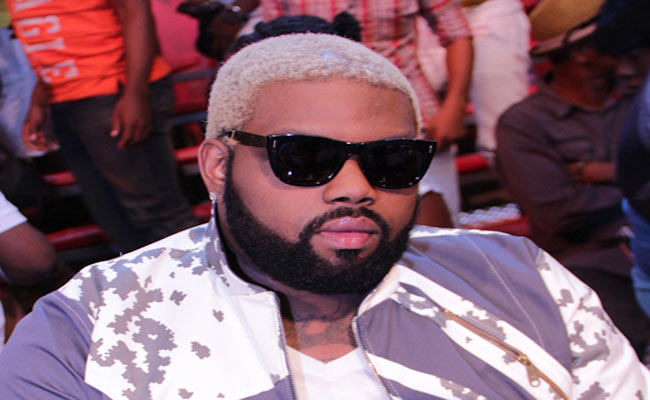 In the latest weeks everybody has been looking for more songs from Jamaican Dancehall Reggae artist Demarco. BADA BADA BADA!
Demarco has been around for a minute and he is considered foundation in Dancehall Music.
With an incredible number of international hits, ever green anthems,  a unique style and lyrics till the end of time Mr Demarco has a huge catalog of new hot songs & fresh music videos that dropped in the past months, let's check out some of the hottest so far.
WATCH DEMARCO – LOYAL – OFFICIAL MUSIC VIDEO REMIX FEAT BUSY SIGNAL – MARCH 2014
Jamaican star Demarco voiced a new song also onGood Book Riddim produced by ZJ Liquidand paired the song with another official music video for Good Book Riddim, available on i-Tunes, click on the banner to get it.

WATCH DEMARCO – GOOD BOOK RIDDIM – OFFICIAL MUSIC VIDEO

This past April Demarco released also an emotional tribute to Vybz Kartel's sentence. Allergic To Bad Mind Friends, referring also to the unfair treatment reserved to World Boss Vybz Kartel.
Demarco always speaks his mind! Respect! Watch below the official music video.
DEMARCO – ALLERGIC TO BAD MIND FRIENDS – UIM RECORDS – OFFICIAL MUSIC VIDEO
More recently Demarco released the Bad Gyal Anthem,off the Promiscuous Riddim
Since Demarco always speaks his mind he also stepped up to new comer Alkaline when he heard that the young dancehall artist dissed several veteran dancehall artists, including World Boss Kartel.
Demarco went all out on Alkaline during Zj Liquid 's Urban Mondays a couple weeks ago, toward the end of August.Demarco starts his freestyle bigging up Vybz Kartel and closes his freestyle saying "Support Dancehall go buy Popcaan album". And remember Demarco didn't like Popcaan. 
Mi hear some bwoy a seh a Movi or a Octane
And everybody lost him mussi sick in a yo crack brain
Dem fi know seh bun up lock street, lock lane
And every weekend yuh can catch mi pon that place

Black eye bwoy yo mussi waan black rain
Waan style every artist fi get that fame
Talk seh yo mother should a abort yuh and done
Well the whole a Jamaica think the exact same
DEMARCO HOT NIGGA (URBAN MONDAYS FREESTYLE – ALKALINE DISS)
Demarco also dropped the single Puppy Tale, one of the artist latest sensational single. Watch the making of official video below.
DEMARCO – PUPPY TAIL – OFFICIAL MUSIC VIDEO
real deal